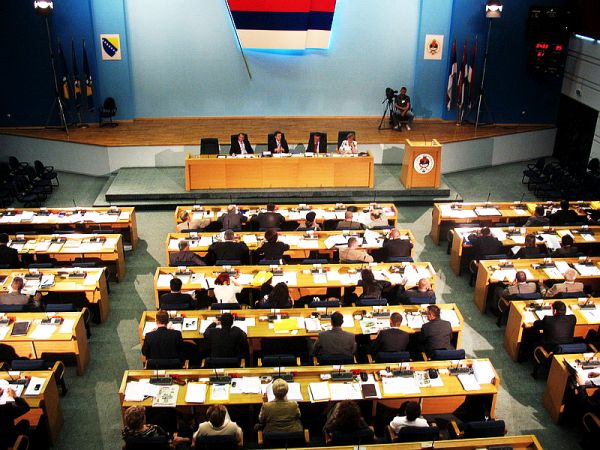 Banja Luka, September 16, 2015/ Independent Balkan News Agency
By Mladen Dragojlovic
Prompted by the suspicious political moves of ruling Alliance of Independent Social Democrats (SNSD), opposition parties in RS National Assembly (RSNA) took to the offensive and forced the RS President and leader of SNSD, Milorad Dodik to withdraw the bill on rights of elected representatives during the period 1991-1995.
Opposition MPs in RSNA stated that this is their first victory over the ruling coalition leaded by SNSD, which have absolute majority in Parliament. In fact, the last session of RS NA was one of the most dramatic since, last year, opposition MPs removed microphones from their places and gave them to the RS NA speaker. This time, they didn't do that but decided to get out every time RS PM, Zeljka Cvijanovic, started to speak. That was about ten times during one session. But, the real drama began when it was time to discuss the disputed bill.
First of all, a group of Serb veterans protested against Law saying that it jeopardize their rights. As they emphasized in the front of RSNA building, during war they were in the first front line and now those who were in comfortable seats would have bigger financial compensation. Dodik answered with reduced proposal which provide compensation of 800 (400 Euros) instead of initial 1 200 BAM (600 Euros), but it was not good enough to stop strong opposition criticism on the matter.
When delegates began discussion on the bill, a new situation occurred. Dodik announced that he withdraws the bill from parliamentary procedure, a development which was welcomed by the opposition.
"I am withdrawing the bill, but if political parties fail to reach proper consensus about this matter I will suggest it again. The bill ensures the rights of those who created RS, many of who are now in very bad financial situation. Many became the target of the international court in Hague and I think that they deserve financial compensation for their merits in history", Dodik said on the session of RSNA.
Opposition Party of Democratic Progress (PDP) MP, Miroslav Brckalo, told reporters that the withdrawal of the bill is a good development, because it "did not defend the interests of RS".
"If that Law was adopted, it would cause deeper divisions in RS", Brckalo argued.
Adam Sukalo, MP of Advanced Srpska Party, said that this is the first Dodik defeat in RSNA and that he hopes that it is not the last.
"I hope that Dodik will, in the same manner, withdraw the decision about a referendum on the judiciary system in BiH", Sukalo said.