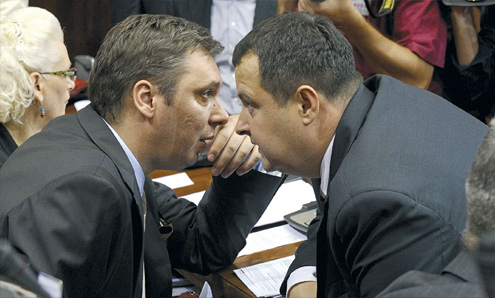 By Milos Mitrovic – Belgrade
The ruling coalition leaders adjusted the key elements to resolve ''the economic situation'' in Serbia, Belgrade media reported on Tuesday. The economic measures program should be finalized after Prime Minister Ivica Dacic and his deputy Aleksandar Vucic finish their visits abroad later this week.
"We still have to agree about several elements regarding the public expenditures that will be reduced, but it is out of question that the budget deficit should be limited of no more than 4.7 % of Gross Domestic Product (GDP)'', Minister for Economy and Finance Mladjan Dinkic revealed.
Contrary to the recommendations by the International Monetary Fund (IMF), the salaries and pensions in the public sector will be increased by 0.5 % in October. However, by this measure the average salary and pension will be raised for 250 dinars (2.18 EUR) / 125 dinars respectively.
The plan of ''rationalization in the public sector" will be prepared by this fall, and implemented next year.
The current Serbian Government would not impose any additional taxes on the private sector; the bureaucracy and the public sector would take the ''major burden", Minister Dinkic stressed.
''The growth of the private sector should be encouraged and the public sector should not choke it. We don`t have many choices and we have to do our best to reduce the bureaucracy and the public sector'', Dinkic rendered.
The National Broadcasting Corporation (RTS) reported that the deal regarding amendments to the Labor Law was reached. These changes will allow "easier hiring and firing" and streamlined issuing of construction permits.
Mladjan Dinkic said that the ruling coalition leaders would represent the economic measures program to the trade unions and employers associations. ''The aim is to create the general consensus in the society; after that, the MP`s will discuss the austerity measures and budget amendments''.
''The new arrangement between Serbia and the IMF does not seem very plausible due to the current shortage in the state budget'', ''Vecernje novosti'' daily commented. The estimated sum of 30 billion dinars of savings must be doubled in order to reach that. The chances for this could be improved during summer, since the eventual negotiations about some new arrangement are expected to take place in autumn.
According to the government, a new arrangement with IMF is substantial for Serbia not only for the sake of money, but also for the credibility it could attribute it in the eyes of the investors.
The last arrangement between Serbia and IMF was reached in the end of September in 2011. Nevertheless, it was already suspended in the beginning of February in 2012 because it became clear that the Serbian budget for that year deviated from the agreed program.