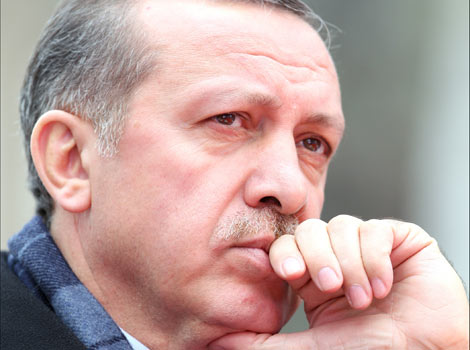 By Manolis Kostidis – Ankara
Ruling Justice & Development Party (AKP) rates have dropped 4 percentage points, polling firm Konsensus reports. According to its findings, the AKP is still in the lead with 47.1 pct over 30.9 pct of the Republican People's Party (CHP) while the Nationalist Action Party (MHP) has 14.6 pct and pro-Kurdish Peace & Democracy Pary (BDP) has 4.6 pct.
Konsensus pollsters say opposition parties maintain their rates while the AKP has dropped 4 pct in the latest poll.
"Gezi park incidents upped CHP and MHP rates. Considering the AKP recorded a drop only in the 2009 local election, we can't rule out a similar performance in the 2014 local election", Konsensus director Murat Sari says.
Local elections in Turkey are expected to go ahead in March 2014 with Recep Tayyip Erodgan seeking to maintain dominance in the country's largest municipalities such as Istanbul which has a population of 14 million and Ankara with a population of 4.5 million.
Meanwhile, Turkey was troubled by the Diyarbakir explosion, in the southwest, which resulted in six people being injured. According to the first reports, a hand grenade exploded in the hands of youngsters, aged 16 to 17 years.
Strong police forces arrived in the area along with soldiers and have blocked off many roads as there are fears of more blasts. Turkish authorities also fear the possibility of PKK action as the Kurdish-issue resolution process is ongoing.