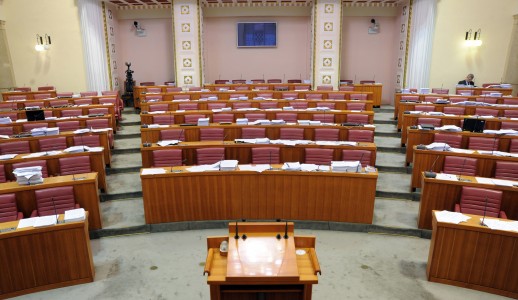 Zagreb, March 6, 2015/ Independent Balkan News Agency
By Marija Avramovic
The ruling Kukuriku coalition in the parliament now has 74 MPs, one less than the majority needed in the Parliament, since on Friday representative Vesna Sabolić left the ranks of the Croatian People's Party-Liberal Democrats (HNS) and joined the National Party-reformists.
Currently the Social Democratic Party (SDP) has 56 MPs, HNS 11, Croatian Party of Pensioners (HSU) 4, and the Istrian Democratic Assembly (IDS) has two representatives and there is also an independent MP Josip Kregar. Based on that, representatives of the ruling coalition point out that the parliamentary majority remains stable.
The number of MPs of the Kukuriku coalition has fallen below one half of total number of MPs in September with the expelling of former Sisak County Prefect Marina Lovric Merzel from SDP and since then the government of Zoran Milanovic formally became a minority, while at the beginning of its mandate it had 81 parliamentarians.
Those who are still governing argue that there is not much reason to worry because with seven votes of minorities they can still pass bills in Parliament and also remind how one should not forget the independent MP Damir Kajin.
"The coalition is stable and the majority has never come into question, regardless of speculation, and the proof for this is the budget which was passed with vast majority", explained the President of the Parliamentary club of SDP Igor Dragovan.
This year's state budget, in fact, was passed with the support of 85 parliamentarians.
The largest opposition party in parliament, the Croatian Democratic Union (HDZ) currently has 41 representatives, there are 12 independent MPs and Reformists have 3, but regardless of the words of representatives of the ruling coalition that the majority is stable, from now on they will have to pay more attention to what the MPs who aren't from their parties, think about certain bills.