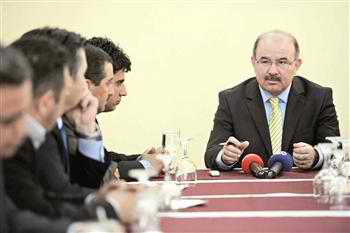 AKP speaker Hüseyin Çelik raises the alarm over possible provocations to the country's ongoing peace process, noting that the government will attempt to remain flexible to achieve a result
The ruling Justice and Development Party (AKP) Speaker Hüseyin Çelik has reacted to some provocative attacks on the ongoing peace process, saying that the government would act flexibly to achieve a result.
"Hopefully we will not face a road accident," daily Hürriyet quoted Çelik as saying yesterday. "There might come out some people who would like to sabotate [the process], but the government is determined. We will keep on our way. We will use the spare wheel if we have a puncture. If the engine breaks down, we will repair it. If it is not fixed, we will change the car and keep on our way. Because we have to save Turkey from a hindrance in any case," he said.
Photo AA