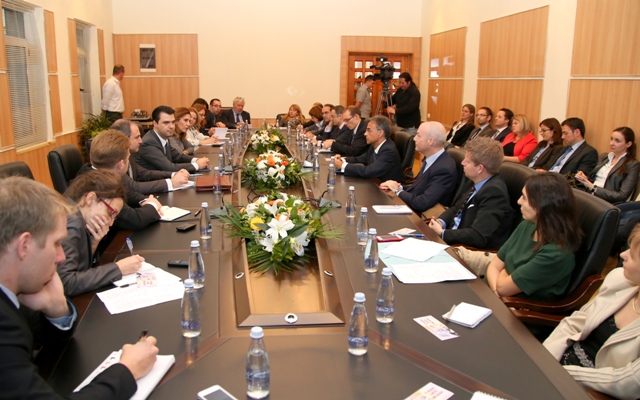 Tirana, November 8, 2013
The head of the opposition, Lulzim Basha received today in a meeting the Council for Western Balkan comprised of diplomats of EU member countries accredited in Brussels, who are in Albania in a fact collecting mission over the next steps that Albania will take in the process of the European integration.
The head of the Democratic Party considered the recommendation of the European Commission for Albania to be granted the EU candidate status as a major achievement, by declaring that, "The Democratic Party is the party that changed the course of the history of Albania, by turning the eyes of the country toward the west and the free communities. It will never stop in its effort for the full accession of Albania in the EU as the best future that Albanians deserve".
The representatives of the EU member countries praised the progress of Albania during the years that the Democratic Party has governed in meeting the criteria needed for the EU candidate status to be recommended.
Basha briefed the European diplomats on the consecutive attacks of the majority against the Constitution and the rule of law, the aggressive approach shown against the opposition and the campaign of attacks against the president of republic and independent institutions.
The head of the opposition also talked about the nominations in the state police, which according to him, is opening a dangerous chapter for security in the country.
The leader of the opposition said that the Democratic Party will use all legal and institutional means against the open attacks that the majority has launched against democracy and free elections. /ibna/