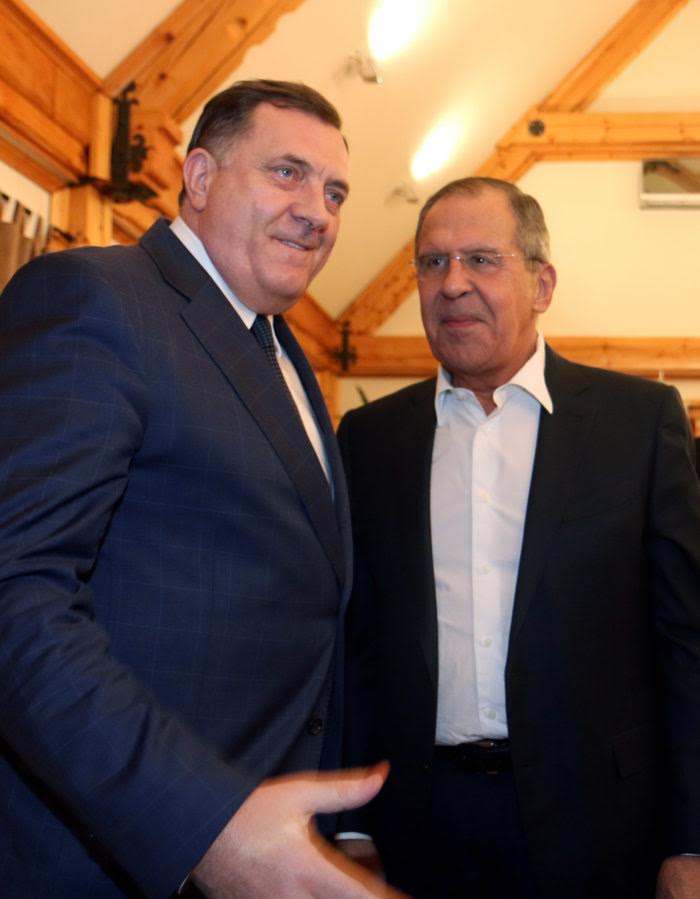 Republika Srpska President, Milorad Dodik, had a two-day meeting on Wednesday and Thursday with Russian Foreign minister, Sergey Lavrov, in Belgrade, Serbia. The two men discussed several important issues which will improve the future relations of Republika Srpska and Russia.
As Dodik told reporters after the meeting, he said to Lavrov that it is important to maintain the Dayton Peace Agreement as the sole document that BiH can be based on and survive. Dodik has noted that it is impressive how Lavrov knows the details of the Agreement and how essential it is for it to be respected.
"We are all aware that this document was significantly undermined, and that the Russian representative, who abstained, something the rest in BiH considered important, did not participate in many decision- making processes," Dodik said in Belgrade.
He has stressed that he informed Lavrov that in that regard it was necessary to maintain the document, the BiH Constitution, instead of "demolishing" and desecrating it, thus the consent of everyone in BiH is required. Dodik has pointed out that the Dayton Agreement has been "devastated" by the international community through the High representative who was supported by the EU, the United States and previous U.S. administration.
"It must be clear. The effort to maintain the Dayton Peace Agreement or what is left of it, is the best political course at the moment," stressed Dodik, and recalled that Russia was a part of the contact group when the Agreement was created, but at that time, Moscow -unfortunately- was not as powerful as it is now.
He also said that, despite all anti-Russian and anti-Serbian hysteria, which is long-lasting and apparent in various forms, an eternal message of commitment to peace, stability, respect for the Agreement in question and the Constitution of BiH should be sent.
"And if that is why I should be sentenced, it would be a precedent, since those who are legalists are being put on the other side, or the side of the guilty party," Dodik noted.
He emphaiszed that Republika Srpska is grateful to Russia for two extremely important things – the veto at the UN Security Council over the British initiative and for incapacitating the abuses by the high representative in BiH before the Security Council.
"I will not miss the opportunity to thank the Russian officials, primarily for their stance at the Security Council when the British wanted to convict the Serbs of an alleged genocide against the Bosniaks. Russia vetoed it. I believe it was fair and honest. The British proposal was humiliating for the Serb people," Dodik said.
Dodik stated that false reports sent to the UN Security Council by high representatives in BiH undermined the RS's position until Russia showed readiness – primarily the late Ambassador Vitaly Churkin, and nowadays representatives of the Russian administration – to accept the RS report and present it to the Security Council.
In a categorical way, Dodik said: "That practice, which lasts seven, eight years, has disabled harsh, unnecessary and undocumented decisions against Republika Srpska. If Russia did nothing for us, this would be enough."
He stressed that RS remains grateful to Russia for its presence in the Srpska oil industry, economy and cultural projects and announced that intensive contacts will continue…/IBNA