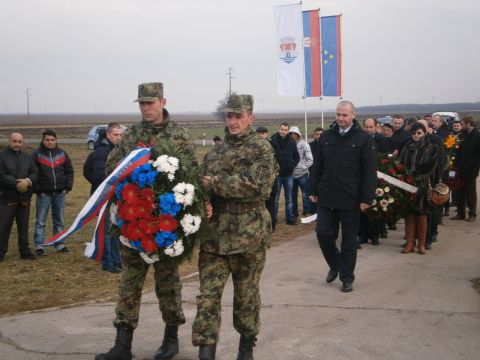 Banja Luka, August 3, 2015/ Independent Balkan News Agency
By Mladen Dragojlovic
Republic of Srpska is ready to, along with Serbia, pay respect to killed and displaced Serbs during Croatian Army and police operation "Storm" in August 1995.
About 250,000 Serbs on tractors, cars, horse carriage and everything else able to move and carry at least one person, begun their sad voyage under grenades in Knin, Croatia, and finished it somewhere between Banja Luka and Belgrade. The border crossing on Sremska Raca, which will be the place of the main ceremony on Tuesday, was at that time full of refugees. Whole families, with or without livestock, were trying to escape the biggest expelling of Serbs since WW2. Many of them died on that way and those lucky to reach a new place to live were forced to start building a new life from scratch. Just a few of them went back to Croatia.
RS National Assembly Speaker, Nedeljko Cubrilovic, said on Monday that the marking of the Day of Remembrance and the ceremony that will take place near Sremska Raca, is the best chance to pay respects to all the victims.
"It is an opportunity to also thank all those who contributed to the establishment of peace and conditions for a free living within the newly created states in which the peoples and all citizens exercise their full identity, respecting all the historic, national, cultural and other interests and needs", Cubrilovic said in a written statement.
He added that it is also is a chance to send a clear message to all countries and nations in the world, especially the neighbouring countries, that the activities and messages seen in Croatia on the occasion of the 20th anniversary of operation "Storm" will not contribute to the reconciliation and establishment of stable and neighbourly relations. Cubrilovic emphasized that it brings very difficult and painful memories to the Serbs on the worst tragedy and biggest mass ethnic cleansing and expulsion from their homes in Croatia in the post-WWII era.
"Some of the world countries cannot see and cannot accept this as an act of crime, while the perpetrators are not prosecuted nor tried objectively and impartially, according to international and domestic laws and norms of civilisation", Cubrilovic pointed out.
The Association for Social Research and Communications (UDIK) tried to organise peace demonstrations in the front of the Croatian embassy in Sarajevo to point out that operation "Storm" represents an ethnical cleansing in that state, but Sarajevo Canton police didn't issue a license for this gathering.
"The demonstration, which was due to take place Monday, was aimed at paying tribute to the victims of Operation "Storm" and to draw public attention to the crimes the Croatian forces committed against Serb civilians, which Croatia now celebrates with pride", notes the Association in its press release.
UDIK emphasized that this is a sign of support for the policy pursued by Croatia, and that is the policy of discrimination and glorification of those responsible for war crimes against Serb civilians in Croatia.