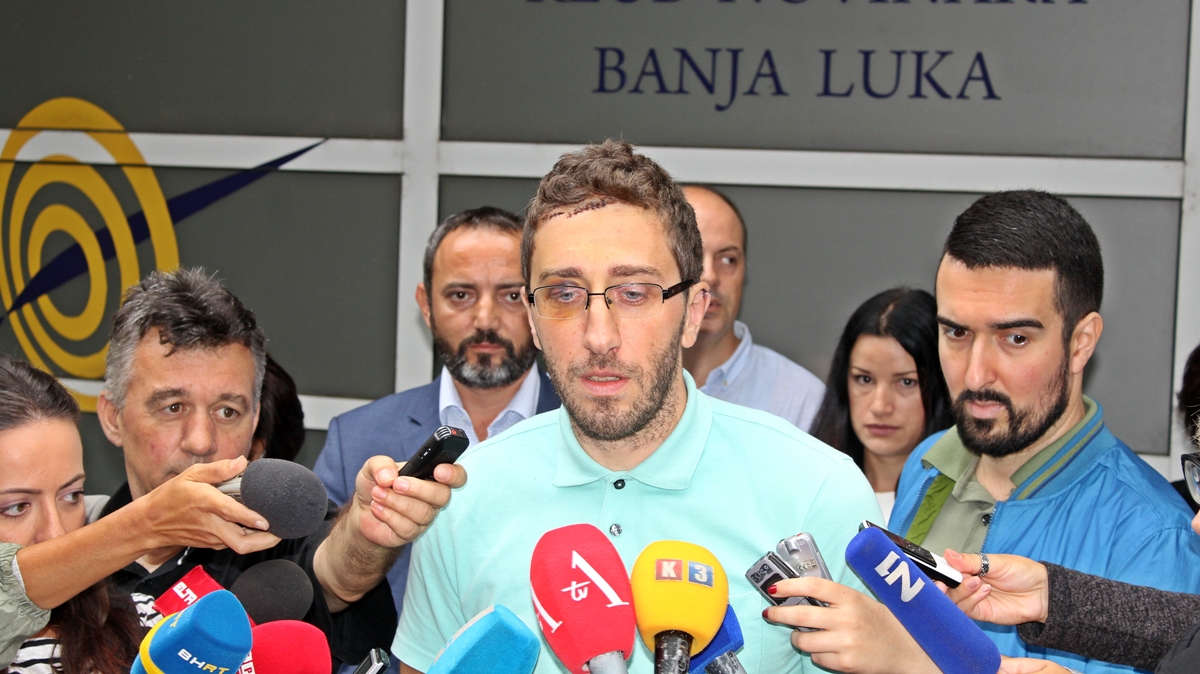 One man has been arrested and the police is seeking for another person involved in the attack on Bijeljina based BN TV journalist, Vladimir Kovačević, a few weeks ago in Banja Luka.
The arrest was confirmed by Republika Srpska (RS) Minister of Interior, Dragan Lukač, on a special and urgently organized press conference on Monday.
Lukač said that one person has been arrested after a thorough investigation.
"The RS police had sufficient evidence to believe this was one of the perpetrators of the attack", Lukač said in his address to the media.
He emphasized that the case had no political background and the authorities in RS are not involved in the attack on the journalist.
"We are going to see if there is a connection with some other politician or person", Lukač added.
The Banja Luka District Prosecutor's Office confirmed that the prosecutor in charge interrogated one person, unofficially it is Marko Čolić, and proposed that he be taken in custody over a suspicion that he was one of the persons who attacked the reporter.
Kovačević suffered severe injuries on August 26 in front of the building in Banja Luka, where he lives with family. As he said after the attack, two unknown persons had approached and beaten him with expandable batons. Kovačević spent several days in the hospital and the attack was assessed by prosecutors as a murder attempt.
At the meeting in the office of "BH journalist" Association in Banja Luka, on Monday morning, Kovačević confirmed that there is some progress in the investigation. After Ministry of Interior RS confirmed the arrest, Kovačević said that he will not be satisfied until the police identified the person(s) who ordered his assassination. He added that he had no prior contact with Čolić, so the motive of the attack cannot be personal.
The attack was condemned by foreign institutions and associations of journalists, which after the attack gathered in several cities across the country to express support to the injured reporter and to demand from the authorities to find and adequately punish the perpetrators.
The media  wrote that Marko Čolić, who is charged with the attack, is a boxer. On his FB profile he says that he is employed at the clinic "Zotović" and that he works as a bouncer in café "Balkan" in Banja Luka. He decided to remain silent during the prosecutor's interrogation.
The case raised the issue with the security of journalists in BiH. A large number of personal attacks on journalists were never prosecuted, many of which are still in some cases kept from the public. Two years ago, journalists in BiH demanded that an attack on a journalist be treated as the attack on a police officer or any other official. The assemblies on all levels of government in BiH refused to discuss this topic on the session. Now, many of them raise their voices in favour of such a decision and emphasize the importance of a more secure environment for journalists to do their job./IBNA