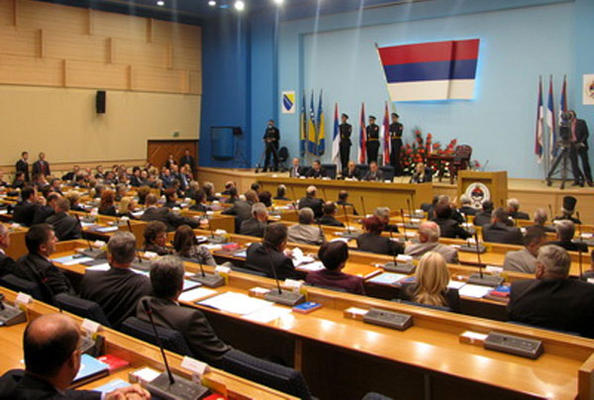 By Mladen Dragojlovic – Banja Luka
Late on Monday night, Republic of Srpska got a newly elected National Assembly with a tight majority of a coalition of the Alliance of Independent Social Democrats (SNSD), the Socialist Party (SP) and the Democratic People's Alliance (DNS), which achieved the support of 44 MPs, just two more than it is necessary for a majority.
The 10-hour long session was exhausting for most of the new delegates in the highest legislative institution, since most of the time was spent on mutual accusations for irregularities, corruption and buying of votes. Opposition MPs, from Alliance for changes (Serb democratic party SDS-Party of democratic progress PDP-Peoples democratic movement NDP), were convinced that SNSD had no chance to collect enough MPs for majority. But, much to their surprise, the oldest MP, Ilija Stevancevic from the Party of United Pensioners, and former member of the opposition Peoples Democratic Movement, Vojin Mijatovic, supported SNSD along with other delegates who had earlier stated that they will reconsider their participation in a SNSD led coalition.
Mijatovic left his party several days ago, right after the Central election commission BiH confirmed election results. As he explained to the media, he will act as an independent delegate despite the fact that people voted for him as a member of a party. His ex-party leader, Dragan Cavic, demanded that he return his mandate but, according to the law, it is impossible.
Stevancevic, as the oldest delegate, was an Assembly speaker on the first session and his support to SNSD-DNS- SP came as a surprise to the public. Stevancevic's party, in the past,  was in opposition and members were angry with the ruling parties SNSD-DNS-SP, because of the bad status of older population in RS. On the session, Stevancevic also said that he will act as an independent member of Parliament. Also, his support to the ruling coalition was a trigger for an attack on him on Tuesday afternoon. One of Stevancevic ex-party members tried to hit him in the face accusing him of "treason".
The session was full of incidents, with the biggest being the statement of the opposition PDP party, Borislav Borenovic, that RS president, Milorad Dodik, during the session made rude comments about his mother. Dodik, of course, said that it wasn't not true but it didn't stop PDP from announcing that "they are not afraid of Dodik and will continue their battle for a fair RS, where all citizens will have the same rights".
After all, RS Parliament elected DNS member, Nedeljko Cubrilovic, as the new speaker, but failed to elect four vice presidents. This will be done on the next session.
In the end, analysts will have a lot of work to make a political diagnosis of the situation in RS, especially because never before a ruling majority had such a small number of delegates. Some of the analysts have already said that in the next four years, things in this part of BiH will be very uncertain, because MPs who betrayed their party once can very easily do it again.