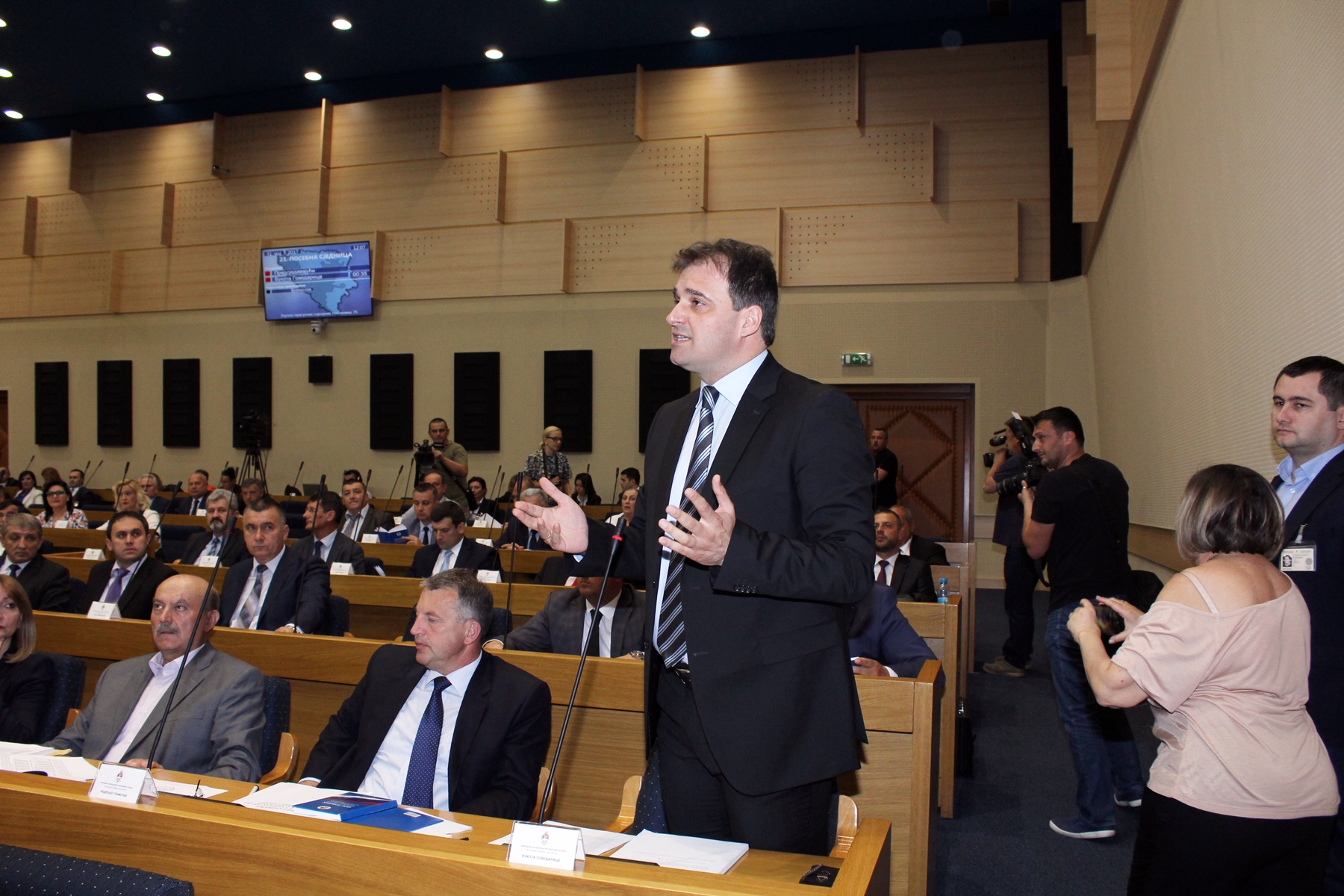 As it was expected, opposition coalition in RS National Assembly, "Alliance for changes", didn't gather enough MPs to support the recall of the RS Government. In fact, they didn't have support even to put this issue to parliamentary discussion.
The result was predictable on the very beginning of the Parliament session. Opposition parties leaders tried to force RSNA Deputy Speaker, Zeljka Stojicic, to allow one of them explain why they want to see this Government changed. As they stressed, it was written in the one 200 pages long document, which was published at the middle of May, when demand for a special session was submitted to RSNA.
In the end, less than 45 minutes after it started, it was one of the shortest RSNA sessions. Out of 75 MPs who turned up for the session, 41 voted against the discussion about confidence to the Government, 30 voted in favour and four were restrained. However, this result also is very significant. 41 vote against discussion means that majority was not absolute since "more than a half" MPs means two votes more. Also, it is important that MPs of the coalition "Homeland", Bosniak and Croat nationality, did not participate in the session since they were at another event in Prijedor. Their presence and votes would not change the result but the fact is that all of them used the same excuse for the absence.
Also, RS President, Milorad Dodik, RSNA Speaker, Nedeljko Cubrilovic and RS PM, Zeljka Cvijanovic, didn't attend the session. In fact they were not in the state since, at the same time with the session, they attended the ceremony of the office takeover between old and elected President of Serbia, Tomislav Nikolic and Aleksandar Vucic. It means that the highest representatives of the executive and judicial power in RS were not in the country in the time of the RSNA session.
After the session all sides gave the expected statements and there was nothing new. Opposition leaders blamed the ruling coalition that they are afraid of democratic discussion about RS Government results, stressing that this Government is the worst in RS history. Also, they announced that their democratic battle for Government dismissal is not over and that they will use all possible democratic tools to make this true. Serb Democratic Party leader, Vukota Govedarica, said that after general elections 2018, Cvijanovic and Dodik will end up in the jail because of all the irregularities during their mandates.
On the other side, ruling coalition representatives had a clear answer on all opposition statements – parliament said it's final word. Cvijanovic said that it was clear that Govedarica has nothing more to offer on the political agenda when threatened with imprisonment.
"As I mentioned before, Govedarica would sent to prison anyone whom he cannot beat on elections. After today's futile attempt to overthrow the government, that is clear to everyone", said Cvijanovic.
It is important to mention that, on this issue, Democratic People's Alliance (DNS), as ruling coalition member, voted against the opposition's suggestion despite some hopes that they would support it. These hopes were based on recent "rebel situation" in ruling coalition when DNS representatives voted against sale of Ljubija mine to Israeli Investment Group, despite the RS Government demand to do the opposite.
RS Government, under leadership of Zeljka Cvijanovic, survived, but opposition must decide what is their next step. In this decision special attention must be payed to simple timing because this attempt was obviously badly timed.