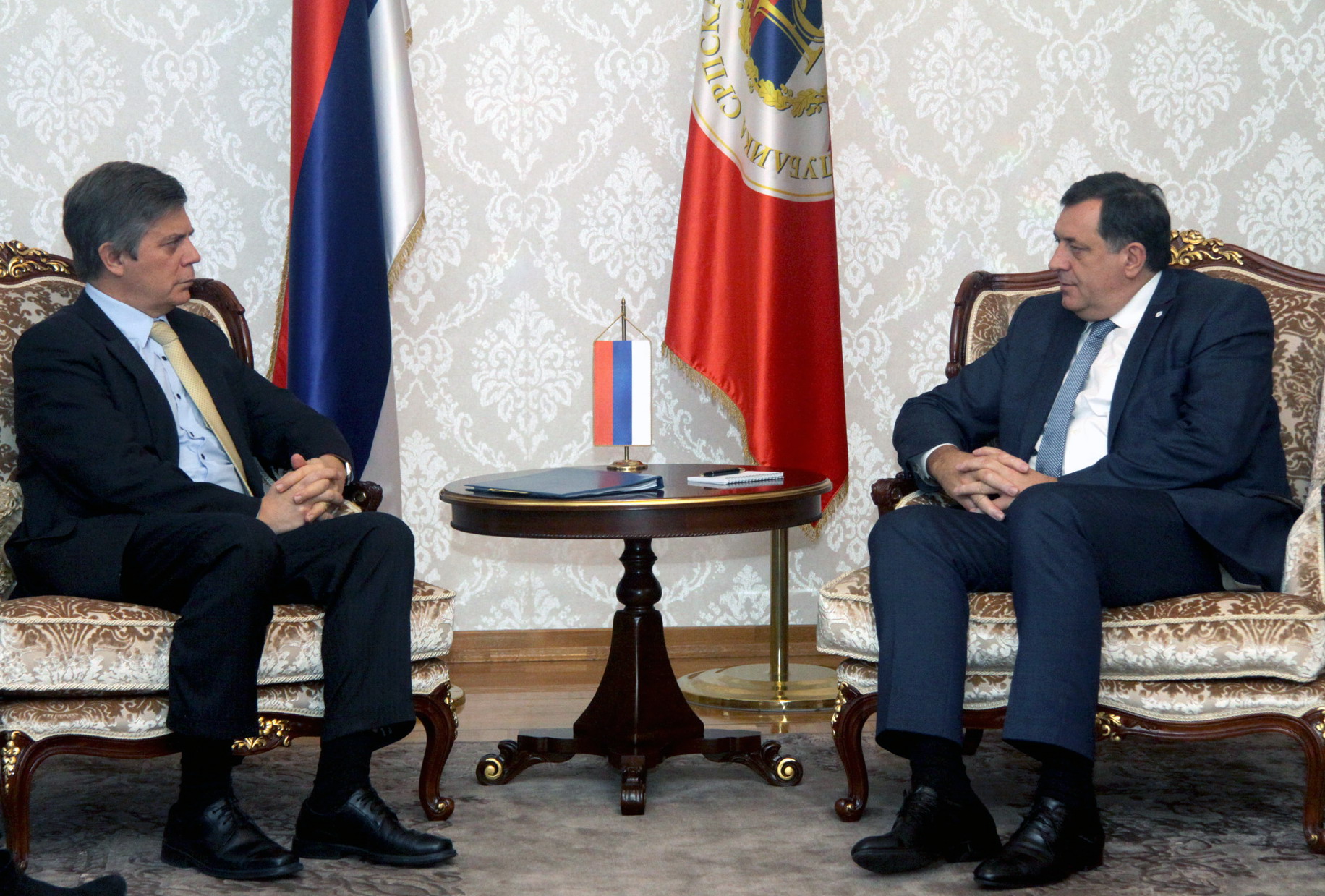 Banja Luka, December 4, 2015/Independent Balkan News Agency
By Mladen Dragojlovic
Several meetings of RS established workgroup for the Draft of BiH Law on Constitutional court will result in a document which will be submitted to BiH Parliament for adoption.
According to conclusions from joint meeting of Serb parties leaders in Banja Luka, the deadline of 120 days for adoption would begin at the day when proposal of Draft arrive in the Parliament. If BiH Parliament fails to adopt the Law within the set deadline, RS will organise a referendum on the issue.
RS President, Milorad Dodik, informed the head of the EU delegation in BiH and EU Special representative, Lars Gunnar Wigemark, on this issue. On the meeting in Banja Luka, he emphasised that for RS it is not acceptable that decisions of the Constitutional court can be adopted with three voices of foreign judges and two voices of judges of Bosniak nationality who were high officials of the SDA party, before they were elected in the Constitutional court.
On the press conference on Friday, Dodik said that the referendum will have a different connotation in case the Law is adopted and in case it is not adopted.
"If BiH Parliament adopts the Law, the referendum will only decide on whether January 9 will be changed, and in case that they fail to adopt it, a referendum will be a plebiscite on what the people think of such work of the BiH Constitutional Court", Dodik said.
He noted that the Law, which has no alternative, would exclude foreign judges from the Court and would introduce a new way of decision-making. It is necessary to adopt the change which will provide that one member from each entity and from each of the constituent peoples would have to be in a majority. This, as Dodik said, would end the practice where Bosniaks and foreigners outvote other Court members.
Dodik added that more than 120 fundamental decisions in connection with RS have been made so far, but also in connection with Croats, whose political representatives publicly supported an adoption of the Law on the BiH Constitutional Court.
"The situation which has been present for years has promoted interventions in the political system, legislation, constitutional jurisdictions, the right to make decisions and the like, on the basis of the so-called widened jurisdictions of the BiH Constitutional Court, which the Court itself has widened under the influence of the High Representative", Dodik said.
He stressed that RS was declared on January 9, 1992, and that the proposal of the Bosniak member of the BiH Presidency, Bakir Izetbegovic, that it should be replaced with November 21, is cynical, humiliating and unacceptable. That is the date when Dayton peace agreement was initialed and it has a connotation that RS is a result of the war.