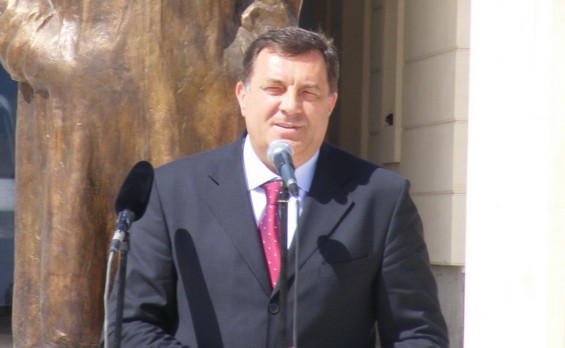 Banja Luka, September 9, 2015/ Independent Balkan News Agency
By Mladen Dragojlovic
Republic of Srpska Constitutional court concluded on Wednesday that the referendum, announced by RS president Milorad Dodik, doesn't harm vital national interests of the Bosniak nation in this BiH entity.
Representatives of Bosniak Caucus in RS Parliament House of Peoples, after Dodik announced and RS National Assembly confirmed, that the referendum will be held because of irregularities in BiH Court work, filed the complaint to RS Constitutional court with the argument that it harms vital national interests.
"The Court concluded that Bosniak Caucus didn't prove that any of the rights enlisted in the Constitution are harmed. The decision on the referendum doesn't apply on any constitutional nation and doesn't contain anything which discriminates of favors any nation. The decision about the referendum applies to all citizens in RS regardless of nation", said RS Court in a press release.
RS National Assembly confirmed the referendum question and it should be: "Do you support the unconstitutional and unauthorised imposition of laws by the high representative to BiH, particularly the imposed laws on the BiH Court and Prosecutor's Office and the implementation of his decisions in the territory of Republic of Srpska?"
Dodik begun the activities on the referendum after several Bosniak officials and ex Republic of BiH Army officers were released after being arrested for war crimes against Serbs during the latest war in BiH. He stated that BiH Court and Prosecution office are corrupt and act in the interest of Bosniaks and not in the interest of all nations in BiH. The decision on the referendum started the avalanche of negative comments among Bosniak politicians and highest officials of international community. Their view on this matter is that RS is only one entity in the BiH state and that it is not possible for an entity to have a referendum on an issue that concerns the state as a whole.
Leader of Bosniak Caucus in RS Parliament House of Peoples, Mujo Hadziomerovic said to the media that they expected the Court's decision as it is.
"After this decision is formalised we will appeal to state Constitutional court in order to stop referendum. We are ready for that and we will not stop now", Hadziomerovic said.
He added that real reform of judiciary system in BiH must start in RS Constitutional court because this institution is an "extended hand of politics".
Dodik said that the Bosniak veto to the decision on a referendum was unnecessary since it does not jeopardise the national interest of any of the peoples, but to the contrary, enables the expression of people's will on some issues.
"Not wanting to prejudice a decision, and having in mind my understanding of the situation, I can only say that the Bosniak request to send the decision to the RS Constitutional Court was unnecessary", Dodik told reporters.