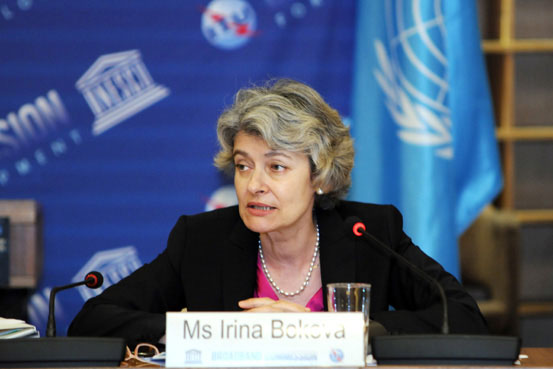 Sofia, March 31, 2016/ Independent Balkan News Agency
By Clive Leviev-Sawyer of The Sofia Globe
A political controversy has erupted in Bulgaria after an MP said that half of the Foreign Ministry team appointed to handle Irina Bokova's campaign to be the next United Nations Secretary-General had worked for the country's communist-era secret service State Security – including the team's head.
The former State Security agents on the team include Raiko Raichev, Foreign Ministry director on global issues, named on March 21 to head the ministry's team to campaign for Bokova.
Metodi Andreev, an MP for Bulgaria's centre-right GERB party – the majority partner in government and the largest party in the National Assembly – said in a television interview that, should Bokova win, these people could later become directors at the UN.
"How will that affect our Western partners?" said Andreev, a former head of Bulgaria's statutory body empowered to identify and expose people in Bulgarian public life with State Security backgrounds.
Bulgaria's Dossier Commission, in its investigations into State Security people, established several years ago that there had been an extremely high proportion of them at the Foreign Ministry.
Nikolai Mladenov, Bulgaria's foreign minister from 2010 to 2013, endeavoured to get Bulgarian ambassadors identified as State Security people withdrawn from foreign capitals. Opposing him was the then-head of state, Georgi Purvanov, who as President had constitutional power over appointing and dismissing ambassadors.
It was Purvanov, now leader of a minority socialist party that participates in Prime Minister Boiko Borissov's government, who threatened to pull his party out of the coalition unless Borissov endorsed Bokova, who initially had been chosen as Bulgaria's UN Secretary-General candidate by the 2013/14 government that quit after prolonged public protests demanding its resignation.
Purvanov himself has a State Security background, having been Agent Gotse.
Andreev attacked Bokova for reportedly having said that it was normal to have a staff with people who had been in the communist secret services because of "having lived with these people throughout our lives".
He said that hundreds of thousands of Bulgarian citizens were seriously opposed to Bokova being the country's candidate for the UN post. "In Bulgaria and worldwide, there is an intolerance for people who have served the communist secret services," Andreev said.
"Is this the candidacy of Bulgaria or of State Security?" he said. The nomination was dividing Bulgaria, Andreev said.
In the same television studio appearance, Zhelyu Boychev, an MP for the opposition Bulgarian Socialist Party, said that the Foreign Ministry team was a working group with purely technical functions.
Making public the internal contradictions regarding Bokova's campaign, "we do very great harm rather than good," the BSP MP said. Boychev alleged that Bulgaria's permanent representative to the UN was openly working against Bokova's campaign.
Boychev said, "we need to show that all institutions stand behind the nomination of Irina Bokova. He said that 27 years after the transition, the topic of State Security people was "for some a problem, but for others it is not".
He described Bokova as a "very strong candidate" who had been elected to head Unesco for a second term and had "gained significant credibility" in that post.
The highlighting of the communist-era secret service elements in the Bokova team was also criticised by Solomon Passi, who was foreign minister in former monarch Simeon Saxe-Coburg's government from 2001 to 2005.
In a March 31 television interview, Passi said that usually the topic of the record cards (used to disclose State Security affiliation) was "raised by people who have no biography, and they make a biography on the back of the cards".
Passi, who has openly backed a Bokova nomination from some time before the Borissov government made its stance clear – on February 9 2016 – said, "is someone currently discussing the working group that prepared the nomination of (former New Zealand prime minister) Helen Clark or (Croatian former foreign minister) Vesna Pusić?"
"These (the Foreign Ministry team) are the people who will prepare documents, folders and schedules. The campaign is led by the state – the President, the Prime Minister, the Speaker of the National Assembly. All these people should distribute their efforts together," Passi said.
He gave the example of Otto Skorzeny, a lieutenant-colonel in the Waffen-SS in the Second World War.
Skorzeny, whose career included involvement in a plot to kill Churchill, Roosevelt and Stalin in Tehran in 1943, the 1943 rescue of Mussolini, and Werewolf, an operation that planned to create a Nazi resistance that would remain in place after the Allied victory in Europe, was in 1962 recruited by Israeli security service Mossad.
"They (Mossad) did not ask about his past as a Nazi, they asked, can you work for us?" Passi said.
Some historians claim that while Skorzeny's motives for working for Mossad remain unclear, it is believe that he attempted a trade-off whereby the Simon Wiesenthal Centre would remove him from his list of wanted war criminals – something that never happened.
"We need to apply the Chinese principle of the cat – it is not important whether it is black or white, but whether it catches mice," Passi said.
Bokova, a Bulgarian Communist Party member until that party's dissolution and reconfiguration as the Bulgarian Socialist Party, was a deputy minister in a BSP government that was forced out by protests in the 1990s and was a failed vice-presidential candidate on a BSP ticket in Bulgaria's October 1996 presidential elections.
She was elected head of Unesco in November 2009 and re-elected to a second term in November 2013.
Her husband, Kalin Mitrev, was State Security's Agent Simeonov.