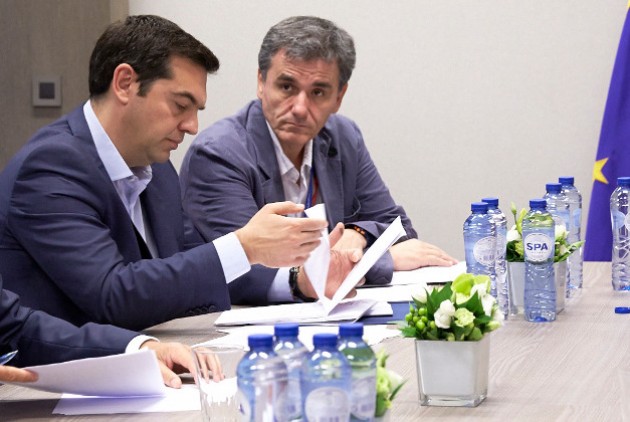 After a letter he sent to Greece's creditor institutions was leaked to the press, Finance Minister Euclid Tsakalotos revealed its full content while launching a scathing attack on main opposition New Democracy on Tuesday.
The conservative party had pressed the government to reveal its communications with the country's creditors, charging that the Syriza-ANEL coalition had secretly agreed to implement fresh austerity measures in exchange for the unfreezing of debt relief.
The Eurozone had put short term debt relief measures temporarily on hold until Athens provided explanations over the feasibility of unilaterally decided social benefits and their compatibility with the goals of the bailout program.
New Democracy sources said the letter was the quintessence of "contrition and subjugation for all Greeks and the country and a confirmation that Prime Minister Alexis Tsipras is the best ally of the most extremist of creditors".
Tsakalotos said New Democracy was prone to "scoring own goals" and that there was nothing secret about the letter he addressed to Eurogroup chairman Jeroen Dijsselbloem and ESM Managing Director Klaus Regling.
"As regards the pension measure, please note that both the Prime Minister and myself have made it publicly clear, and will continue to do so, that this is a one-off payment that is not intended to become a permanent feature of the recently enacted pension reform," Tsakalotos said in the letter.
"I recognize that measures with fiscal implications need to be discussed and agreed with the institutions in line with our MoU commitments," Tsakalotos said.
"I hope that these clarifications reassure the Eurogroup on our full commitment to remain compliant with our obligations under the MoU, both as regards the substance as well as the process of cooperation with our partners," the Fin Min concluded.
Syriza party officials also went on the counter attack against the main opposition party on Tuesday, arguing that only New Democracy and its leader Kyriacos Mitsotakis attempted to block the holiday bonus to 1.6 million pensioners on low income.
The "war of words" that broke out between the two mainstream Greek political parties came as talks between the government and creditors have been put on hold due to the Christmas holiday period. However, Greek government sources pointed out that now that the situation with the social benefits has cleared up, an agreement to wrap up the review of the bailout program is feasible by the end of January.
A Euro Working Group meeting on January 12 will take stock of progress made so far and technical talks will continue with a few to striking a deal having settled all outstanding issues by a Eurogroup meeting on January 26./ΙΒΝΑ