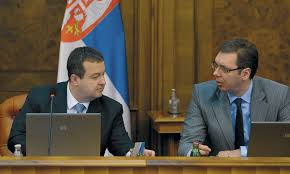 By Miloš Mitrović – Belgrade
Serbian Prime Minister Ivica Dačić, who is the leader of the Socialist Party of Serbia (SPS), proposed dismissal of Mlađan Dinkić, economy and finance minister, head of the United Regions of Serbia (URS). On Tuesday, Dačić said that he suggested to Serbian Progressive Party (SNS) leader Aleksandar Vučić that SPS and SNS should continue to lead the government.
Vučić is Deputy PM and his SNS is the ruling coalition pillar party, given the fact that it controls the most of its MP`s.
The decision by Dačić represents the U-turn after Dinkić announced government reshuffle deal on Sunday. "I had made a deal with both Dačić and Vučić. I will continue to lead the Ministry of finances, and somebody from SNS should take the responsibility for the economy department. I am ready to support the new economy minister", Dinkić said on Sunday.
However, on Tuesday PM emphasized that "Dinkić said that he wants to be Deputy PM for investments, as well as the head of the agency for foreign investments and exports promotion and minister for transport, tourism and telecommunications". "But I refused that. I cannot accept the creation of the super-ministry; this was unacceptable for the other coalition members as well".
Dačić stressed that Vučić attended all the coalition meetings in the past several days. According to Dačić, Vučić was ready to offer Dinkić some of the government departments controlled by SNS.
"If SNS does not want to accept this resolution (Dinkic`s dismissal), the elections should be called or the new coalition created", Dačić said. He specified that the new ruling coalition could possibly be created by SNS, URS and DS (Democratic Party, currently in opposition).
At the same time, Dinkić rejected the claims by Dačić. "Dačić and Vučić had offered me both the position of the Deputy PM for the investments and some of the departments. Dačić lied to you, they had offered me this", Dinkić said at the URS press conference later on Tuesday.
Dinkić rendered that Dačić had insisted that he and other URS members should resign from the government "because he is afraid of the elections".
"I didn`t disrupted my relations with him. He is worried about his PM position, because of the wide popular support for Vučić. Dačić considers Vučić as the real PM. But yesterday Dačić said that he wants to be formal PM at least for some more time", Dinkić claimed.
According to Dinkić`s words, Vučić supported URS to stay-in the government. "Vučić told me both that I should keep the finance minister position and that we had several joint projects that were successful".
The SNS spokesman said that this party would decide on Dačić`s proposal about Dinkic`s dismissal on Wednesday.