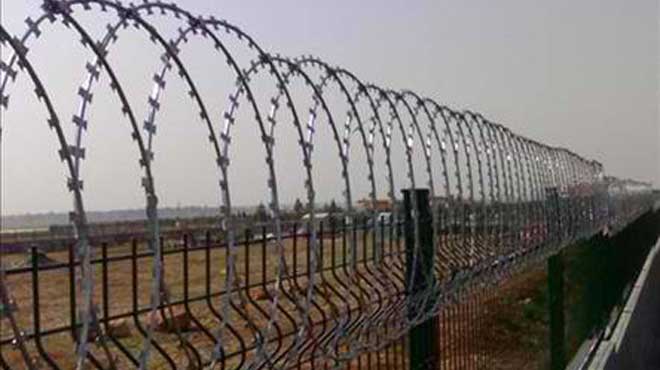 By Clive Leviev – Sawyer of The Sofia Globe
The cost of 9.6 million leva for a fence at Bulgaria's border with Turkey to keep out would-be refugees has led to rows within the government and criticism from the parliamentary opposition.
The initial estimate of the cost of the fence was reported to have been five million leva (about 2.5 million euro).
But the actual figure has come in at close to double that, and dismissals of officials could be on the cards, going by local media reports. On top of the cost question, construction of the fence is running late.
The building of the fence was ordered by the Bulgarian Socialist Party government in late 2013 in response to the significant increase in the number of refugees coming to Bulgaria, mainly because of the Syria crisis.
The nine million leva price tag is said to have caused a dispute between Interior Minister Tsvetlin Yovchev and Defence Minister Angel Naidenov, while Plamen Oresharski, who sits in the prime minister's seat in the BSP cabinet, is reportedly "outraged" by the cost.
Oresharski said that the treasury inspectorate in the cabinet office should carry out a check on the the process that led to the 9.6 million leva price tag.
The Defence Ministry has insisted that it has complied with the legal procedure for the conduct of public procurements and contracting for the building of the facility.
The ministry has said that in choosing the companies, criteria were taken into account consistent with the short deadlines for the task.
The decision on the fence was authorised by the cabinet on January 17, the order was issued by Major General Neiko Nenov on February 3, proposals on contractors were made on February 6 and contracts signed on February 17. Five companies were chosen as suppliers of materials for the building of the fence.
In Parliament, centre-right opposition party GERB called on February 21 for an ad hoc committee to investigate the spending on the fence at the Turkish border.
GERB said that not only had the price jumped, but also the project was severely behind schedule because the intention had been to have the fence in place by March. At the same time, the "living fence" of police deployed at the border to catch illegal migrants was costing 2.5 million leva a month, the party said.
Naidenov told reporters last week that the initial estimate of the cost, 5 100 000 leva, had not taken into account other items that would be needed, such as supplies, food and spare parts.
The preparation of land for the construction of the facility had begun on January 21, he said. He said that the delay had been caused by documentation required for building to proceed, and this was not in the hands of the Defence Ministry.
Depending on the timing of the delivery of materials, the fence could be completed within two months, Naidenov said.