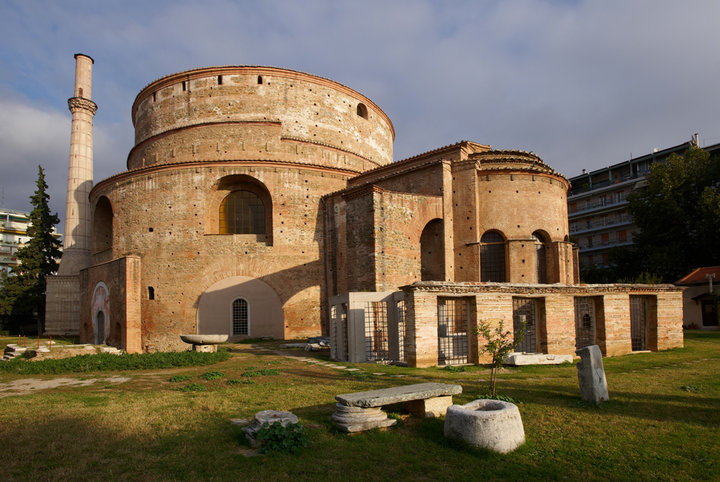 Thessaloniki, December 19, 2015/ Independent Balkan News Agency
By Olga Mavrou
Hundreds of people attended yesterday the celebrations for the  opening (after  40 years) of the church of Saint George or Rotonda for the Greeks, the  Rotunda of Galerius in Thessaloniki (which later became a Christian church). The Rotunda  was severely damaged in the earthquakes of 1978 and have been under reparations since then. But the restoration was completed and yesterday it opened again for the public, with choirs who sang Christian hymns
The building is now a historical monument under the Ephorate of Byzantine Antiquities of the Greek Ministry of Culture, yet the Greek Orthodox Church has access to the church for various festivities. The Church of the Rotunda is a  UNESCO World Heritage Site.
The cylindrical structure was built in 306 AD on the orders of the tetrarch Galerius –as a  mausoleum or as a temple. Its diameter is  24.5 m.  and its walls are more than 6 m thick. In its original design, the dome of the Rotunda had an oculus as does the Pantheon in Rome. After Galerius's death in 311, he was buried at Serbia and the Rotunda stood empty . Emperor Constantine I converted it into a Christian church in 326. The church was embellished with very high quality mosaics -only fragments have survived of the original decoration The building was used as a church for over 1,200 years until the city fell to the Ottomans.  In 1590 it was converted into a mosque, called the Mosque of Suleyman Hortaji Effendi, and a minaret was added to the structure. It was used as a mosque until 1912, when the Greeks captured the city during the Balkan Wars. Greek Orthodox officials consecrated the structure as a church, but they left the minaret.
The Rotunda is the oldest of Thessaloniki's churches. Some Greek publications claim it is the oldest Christian church in the world, although there are competitors for that title.