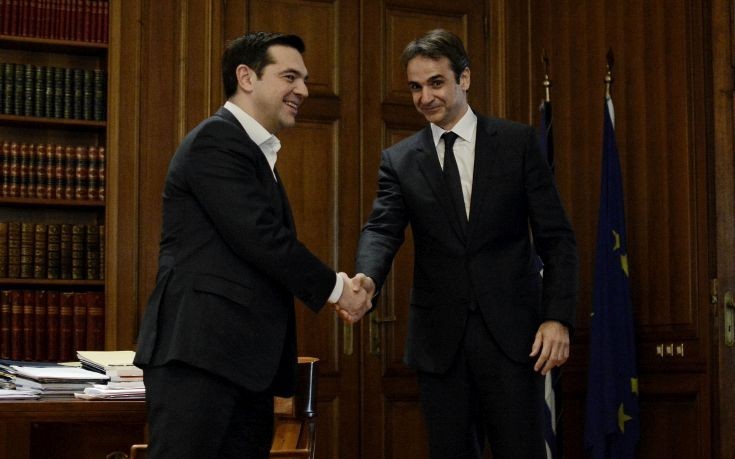 Athens, January 19, 2016/Independent Balkan News Agency
By Zacharias Petrou
Alexis Tsipras received the newly elected leader of New Democracy Kyriakos Mitsotakis for their first meeting since Mitsotakis took over the main opposition New Democracy's leadership.
The meeting was largely seen as a formality since as it was quickly apparent that there was little scope for consensus. However, analysts point out that it could prove important in future as the two men try to maintain a channel of communication.
"I think your election brought a generational cycle to a close," Tsipras commented as he welcomed Mitsotakis, saying it remained to be seen whether the new generation of politicians could create the conditions for a clean political contest, based on arguments, ideas and a sincere exchange of information on the major issues concerning the country.
On his part, Mitsotakis said that it is clear the two sides have differences but that he looks forward to an open communication with the Prime Minister as there are many worrying issues that need to be discussed. "Communication channels will be open and I'm sure debate in parliament and in general will be civilized".
According to reports, Mitsotakis and Tsipras did not find much common ground in their meeting which lasted an hour and a half. The Prime Minister told the main opposition party leader that he must take a clear stance on the issue of the IMF's participation in the Greek program. "You must decide who's side you are on. You can't demand I withdraw the social security reform plan while you praise the IMF at the same time" Tsipras reportedly told the New Democracy president.
Reports also note that Tsipras urged Mitsotakis to support the government's draft bill on public administration reform. Government sources told reporters that "it was good that the meeting was held. But they [the main opposition] still haven't decided what their stance will be on pension reform. All parties must take a stance on the attitude of creditors towards us. We haven't seen any support".
Publicly Tsipras said that the new New Democracy leader's presence also marked the end of a bad tradition of non-communication between the two main institutional factors of the country, the government and main opposition, referring to the time when his party SYRIZA had been the main opposition.
The prime minister promised to be available at all times to provide the main opposition leader with complete information on all the major issues, stressing that the main opposition party was one of the institutional pillars of the political system.
However, hours before the meeting, Syriza and New Democracy argued over the way the government is treating public sector jobs. The main opposition party accused Syriza of interfering in the public sector to appoint party loyalists. Ruling Syriza refuted the accusations, stressing that such tactics were followed by previous governments, adding that Mr Mitsotakis's party is applying populist tactics to fight the government.