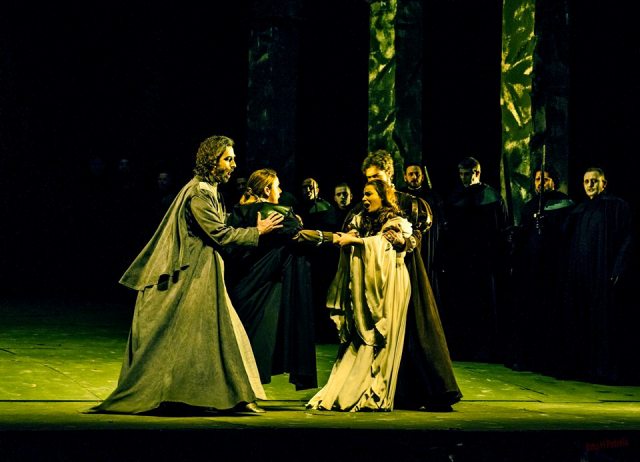 Tirana, 22 March 2016/Independent Balkan News Agency
After 65 years, an absolute premier such as the opera "Capulets and Montagues" or "Romeo and Juliet" brings to Albania the brilliant Bellinian notes.
A premier which has been trusted to the female creativity and potential.
The orchestra is conducted by Elda Laro, the opera directed by Ailyn Bozok from Turkey and even Romeo's role came in the vocal of a mezzosoprano such as Vikena Kamenica.
An extraordinary synergy was created in the official premier at the stage of the National Theater of Opera and Ballet, which, as it was expected, was filled with art lovers. They felt the love and tragedy that was repeated in the rivalry between the two families, Capulets and Montagues, to see what war and hostility bring.
Clad in the style of Ardi Asllani, which evoked the time in which the tragedy of Romeo and Juliet took place, they drew a magic atmosphere by astonishing the public.
Soprano Eva Golemi played Juliet, a role that she had wanted for quite a while and which was difficult in its vocal.
Meanwhile, Vikena Kamenica conveyed for the public an astonishing vocal. A 14 year old Romeo, as Bellini had written, passionate and a dreamer. /ibna/