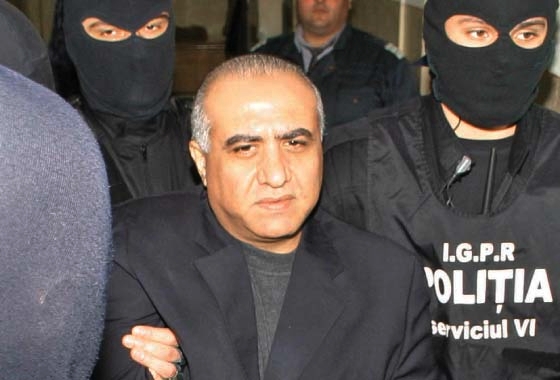 By Daniel Stroe – Bucharest
Omar Hayssam, a Syrian national also holding the Romanian citizenship, was flown into Romania this morning from an undisclosed location, most probably from Syria, and is now held in police custody pending further procedures before serving a prison sentence the three counts he was convicted years ago, one of them being terrorism.
In June 2010, Hayssam was sentenced to three years in prison for fraud. Half a year later, a Court of Appeals in Romania delivered a 20 year prison sentence for the Syrian-Romanian national for acts of terrorism after found guilty of organizing a kidnapping operation in Baghdad, in 2005, in which three Romanian journalists were captured. Last November, Bucharest Court found Hayssam guilty of association with a view to commit serious crimes and sentenced him to another 16 years in prison.
The Romanian justice passed all these verdicts in absentia since Hyassam fled Romania in June 2006, after being released from arrest on medical grounds. His escape aboard a ship transporting sheep sparked a huge scandal in the state security apparatus which culminated with the resignation of the heads of the intelligence services and the country's attorney-general.
Hayssam was a businessman close to the Romanian Socialist-Party (PSD), showing up on several occasions in the company of the former Romanian President Ion Iliescu. He was also one of the party's sponsors and came close to running for the 2004 parliamentary elections on the socialist party's electoral lists. Iliescu denies nowadays any close association with the Syrian businessman.
His extradition from Syria occurred on the basis of a bilateral treaty which came into effect last summer and which perfected during a visit by the Syrian president Bashar al-Assad to Bucharest in November 2010. The treaty came under heavy fire in the Romanian Parliament last spring, with many Romanian officials voicing concern its ratification would harm Romania's external image amid the ongoing internal conflict in the Arab country. The treaty was finally given the green light in the Parliament in May 2012 and went into force in June the same year.
Hayssam's apprehension is seen as an image stunt for President Traian Basescu, seen as the main architect of the suspect's extradition and who showed intense public support for the treaty despite the new ruling coalition's fears. Many said at that point that the West would not make a fuss about the Syrian-Romanian extradition treaty because Romania was seen as a key mediator in the Syrian conflict due to a solid intelligence presence in the Arab country dating back to the communist era when Socialist Romania and Syria were close allies.