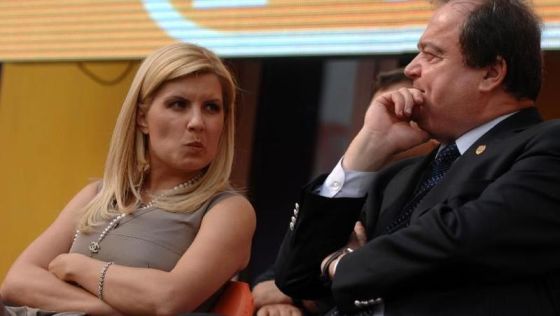 Bucharest by Daniel Stroe
Vasile Blaga, former Romanian minister of Interior, was last Saturday confirmed leader of the center-right democrat-liberals (PDL), the former ruling party till last spring and currently the main opposition party in the Romanian Parliament, in a congress which split the party ranks even further and threatens its very existence.
Blaga, an uncharismatic leader, got 2404 votes of the total 5000 party delegates, while his main rival Elena Udrea, a blonde former minister of Tourism who is renowned for her posh public appearances, followed close behind with 2013 votes. But Udrea accused Blaga's camp of swelling the final number of the party delegates so that he ensures he wins and called for a renewed session vote. The party's leading board rejected her claim.
The atmosphere flared up and the two party camps ended up booing each other. The result and the unrest at the end of the congress prompted President Traian Basescu, founder of the party, who had earlier in the day delivered a speech at the beginning of the congress and shown overt support for Udrea, to warn he would leave PDL and seek to establish a new rightist political party.
PDL had already been weakened last year when it was toppled from power after massive party ranks defections and scored a low 16 per cent in December's elections, much behind the 60ish per cent won by the ruling social-liberal coalition (USL). The austerity measures the former democrat-liberal government had to take as of 2010 have also taken a great toll on the party and its popularity collapsed visibly.
Sunday's congress split the party even further and left the two rival camps struggling to attract as many members as possible. Though no official announced was made in this regard, Udrea is said to be looking, along with President Basescu, into establishing a new party. On the other side, Blaga strives to calm the fears of a party rupture in the territory and prevent defections.
It is likely a fissure in PDL may disappoint its fragile electorate even more and a possible formation of a new rightist party may scatter the votes and leave the center-right parties disunited in their political offensive against the ruling coalition. A prime role in the new configuration of the rightist center of the Romanian politics belongs to President Basescu who made clear he would not retire from politics after his second presidential term ends late 2014. But Basescu may have to do a lot of personal brush-up and lose the image of an authoritarian and intrusive leader if he aims to make it back into the politics.