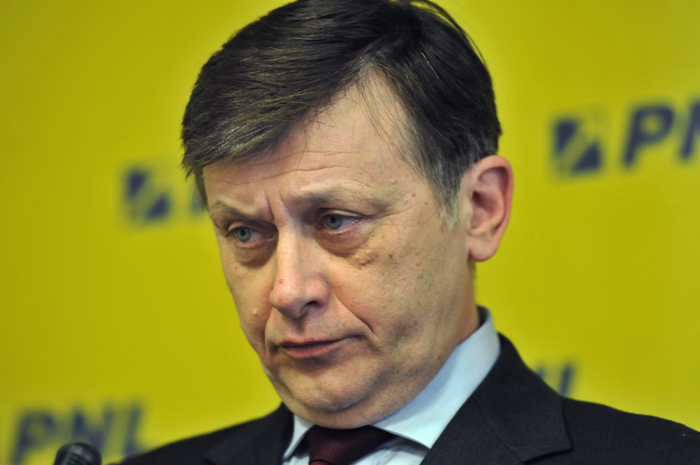 By Daniel Stroe – Bucharest
The Euro-elections came as a cold shower for Romania's largest parties on the right side of the spectrum – the National Liberal Party (PNL) and the Democrat Liberal Party (PDL) – which decided to close the ranks and join resources for the next electoral bump, presidential polls in November.
PNL and PDL will have a single candidate for the elections this fall, the leaders of the two parties announced after the first series of talks held yesterday. The two parties together scored about 27 per cent in last Sunday's elections, well below the 37 per cent the ruling social-democrat led coalition got. Another six per cent went to the Popular Movement Party (PMP), a newly founded party overtly supported by President Traian Basescu, but PMP shows no signs of willingness to join talks with PNL and PDL at this point.
The liberals' leader, Crin Antonescu(photo), said yesterday the two parties will soon agree on the name of the joint candidate for the presidential elections, but pointed out the fusion may not take place too soon. "There are fusions by absorption in which a small party joins a larger party and some more complicated when the parties are equally sized and then that takes a longer time" Antonescu said.
In his turn, Vasile Blaga, PDL leader, said the candidate would be established following a series of "sociological research". A protocol is to be drafted by the end of June when the liberals meet in an extraordinary congress. The congress was called after Antonescu submitted his resignation three days ago following the poor results in the Euro-elections in which PNL hoped to reach 20 %. He made clear he would not seek to run again for the first job in the party.
His likely successor and probably the candidate PNL and PDL would support for the presidential poll in November is Klaus Johannis, the German ethnic mayor of Sibiu, a city in central Romania. Johannis has already submitted his candidacy to the party leadership.
The two parties' prompt response to the poor results in the euro-elections caught both the public and the rival social-democrats by surprise. The latter are also troubled by the below the expectations performance last Sunday when they hoped they would get at least 43-44 per cent. The result raises some issues for the social-democrats and clearly signals the party's still unofficial candidate, PM Victor Ponta, may not win presidential elections from the very first round. A second round may favor the rightist backed candidate, analysts say. At the same time, Ponta's popularity continues to erode amid some corruption scandals that hit his party and some controversial measures such as a new fuel tax and the six months left till the elections may prove politically fatal to him.