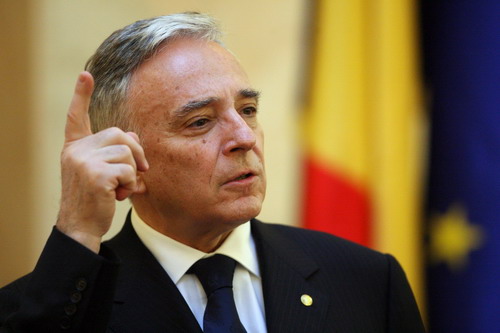 Review by Christos T. Panagopoulos –
The National Bank of Romania has revised the inflation forecast for this year from 3.1% down to 1.8%, and the figure for the end of 2014 from 3.1 to 3%. As for the first part of next year, the National Bank expects the inflation rate to reach a new low.
Showing moderation, the National Bank governor said: "Just as we didn't panic last summer, when the annual inflation rate skyrocketed as a result of drought and the political situation, we will neither jump for joy now that the annual inflation rate will see an all-time low nor we will continue to drop".
The impact of the new fiscal measures on price increases will amount to 0.2-0.6%, said Mugur Isarescu (photo), who also explained: "Usually, these taxes are included in the costs and will or will not be reflected in the final price. It also depends on the market. I would like to make one thing clear, though, namely that we don't believe that any decision to increase costs through taxes is automatically reflected in the prices, as in a snowball effect. This idea has been contradicted in practice. The market does not absorb everything in the prices. There is no reason to expect a snowball effect".
The economic analyst Aurelian Dochia says it is difficult for the National Bank to predict these effects: "First of all, the National Bank does not possess the appropriate econometric models to measure these effects, which are rather exceptional in nature. They only occur once in many years and do not change from one year to the next, so their impact is hard to predict. On the other hand, I don't believe this impact will be very big. At the moment, given the tendency of the inflation rate to drop, these measures may not influence prices in 2014 very much".
With regard to lending, Mugur Isarescu said hard currency loans would continue to drop, albeit at a slower pace, while interest rates on individual loans in the national currency have seen a considerable decrease. Recently, the National Bank board decided to reduce the monetary policy interest rate to a new all-time low, namely from 4.25 to 4% a year, while Isarescu said he was expecting commercial banks to continue to reduce interest rates for national currency loans.
Source: National Bank of Romania