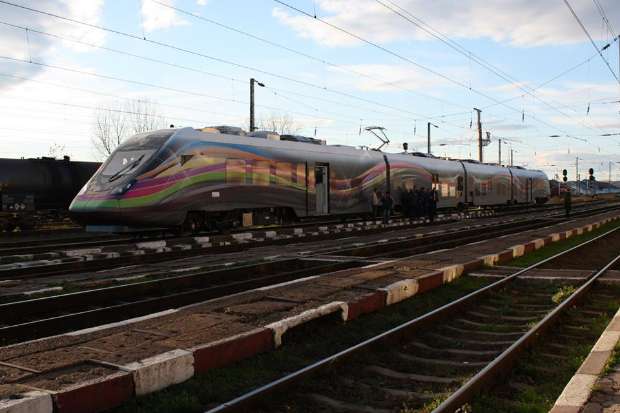 By Daniel Stroe – Bucharest
Hyperion, the first high speed train made in Romania, has been authorized by the country's Rail Agency to be used for passengers' transport, with the manufacturer saying it expects the first route to be opened late June.
The Rail Agency finished all the tests and announced the product is ready for use in public transport. Radu Zlatian, consultant with Softronic, Hyperion manufacturer, said a final decision rests with CFR, Romania's Rail Company which will also establish the route the bullet train is going to be used on.
Softronic, made in Craiova, SE Romania, where there's also a locomotive plant, is a bi-system electric rain. "The train has been made using the best technologies based on a project developed in 2012. It is based on our experience in producing rail vehicles and is equipped with the best electric, electronic and mechanical components. The inside and outside monitoring system ensures passengers' safety, with the engine driver watching everything live. The four carriages train observes all the European standards and the interoperability technical requirement" Zlatian added, as quoted by state news wire Agerpres.
Hyperion cost 3 million Euros and its construction was financed through EU funds. The train can reach a maximum speed of 160 kilometers per hour. It is also equipped with sensors that measure air temperature, humidity and the CO2 quantity, has plugs and free wi-fi aboard. Hyperion is the result of a 5 million Euros investment, the company revealed.
Despite this technological progress, Romania's average speed on its rail tracks doesn't go beyond 50 kilometers per hour, less than half the average European speed. There are only eight rail lines in the country where a train can reach a maximum 140 km per hour. Romania has a total of 20.000 kilometers rail lines, the seventh lengthiest in Europe, but most of the tracks have not been improved for decades which translates in significant delays. But the Romanian Government says EU funds allotted for the 2014-2020 financial cycle will help improve the rail infrastructure and trains will be able to roll at an average 140 km per hour.
Hyperion goes into use in the same week as a local manufacturer launches the first post-communist locomotive in Romania which will mainly go to exports. Electroputere Craiova hopes to sell 300 such modern engines over the next ten years.