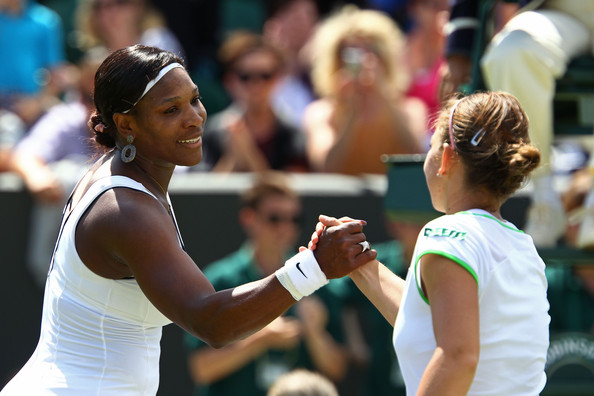 By Daniel Stroe – Bucharest
Simona Halep won against defending champion Serena Williams in a match which sent the Romanian tennis player to the semifinals of the WTA tournament in Singapore and which also marked a first for her, beating a top three opponent.
Halep beat Williams by6-0, 6-2. "This is the greatest game of my life. I cannot explain what I am feeling. I am very happy. I just want to enjoy this success", Halep, number four in the WTA rankings, said after the match. She said she has to soon get over the joy and prepare for the next match on Friday against Serbia's Ana Ivanovic. Halep beat Ivanovic at a tournament in Sofia last year and this year in a match in Madrid. The Serbian won against Halep last year at a tournament in Doha when the Romanian abandoned after one set.
"It's been my dream to defeat Serena Williams. I couldn't have played today without help from the fans and Romanians who came here to support me. I feel terrific" she added. Halep explained she had been aggressive during the match and served well which shaped her victory.
Williams hadn't lost a set to zero since 2008 when her sister Venus beat her in a tournament in Qatar. This is Halep's second victory in two games played at the Singapore tournament. She beat Canada's Eugenie Bouchard on Monday.
Today's victory brought Simona Halep a cheque of 406,000 USD and 460 WTA points. She will get further 70 points after the game against Ivanovic, regardless of the result, bringing her to a total of 530 WTA points.
Romanian officials and sportsmen were quick to congratulate Halep for the great success today. "A historic victory", Romanian PM Victor Ponta reacted on Facebook, pointing out "Simona, you just made 20 million Romanians happy and we're very proud of you". "An incredible victory", Sports Minister Gabriela Szabo also reacted. "Our champion! Good for you, Simona!" former football star Gheorghe Hagi also said. Larisa Iordache, the new sensation of the Romanian gymnastics, also praised Halep and wished her good luck for the next match.