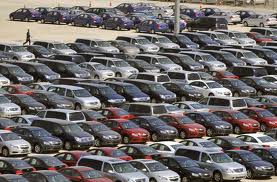 By Daniel Stroe – Bucharest
Romania's new cars market expects to hit a historic low of 50.000 units by the end of 2013 if the sales rhythm of the first trimester (4.000 new cars sold per month) is maintained, warn representatives of the sector.
"Still, we expect 2013 will not bring that bad results, since the Rabla program can be a invigorating factor, expected to reach 10-15 per cent of the new cars market" Mihai Cune, business manager of Autovit.ro, the largest online sale platform for new and second-hand cars in Romania, said in a press conference.
"Rabla" (the Romanian slang for jalopy or clunker, an old, used car) is a government-backed program which aims to first give an impulse to new cars sales by encouraging owners of old cars to turn them in exchange of a coupon which can be used to acquire a new vehicle. The coupon is not nominal so the holder can re-sell it if he wishes to someone who wants to get a new car. The program also has an environmental side this is the reason why the program is coordinated by the Ministry of Environment.
According to official statistics, since 2005 when the "Rabla" program started about 460.000 old cars were turned in and 226.000 new ones were bought in return. 20.000 coupons were ascribed for 2013 alone, according to the Ministry of Environment which has signaled the program may reach its end soon.
The decline in new cars sales comes even if the Government introduced a controversial environmental fee for second-hand cars which has slowed the sales of this type of cars. In this context, experts say the market this year may come under the 66.000 new cars sold in 2012, which will bring the market to a level registered as far back as 1995. As concerns the second-hand cars market, Cune said he expected a total sale volume of up to 30.000 cars, 15-20 per cent below last year's figures.
Romanian car maker Dacia sells most of the new cars, holding about a quarter of the market, while German Volkswagen comes second (15 per cent), but being the leader of the second cars market with 3,900 units sold last year.