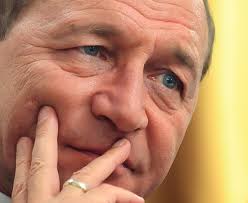 By Daniel Stroe – Bucharest
The Romanian President Traian Basescu today criticized new fiscal measures passed by the social-liberal government and warned the new taxes have only been invented to feed the over-swollen state apparatus.
Speaking at an event hosted by Romania's small and medium enterprises (SMEs) association, Basescu made several statements on Romania's current economic performance and warned the country has to support its own entrepreneurs amid a fall in foreign investments.
"We cannot conceive a Romania which is on an economic re-launch without SMEs. In Romania, we are used to looking at the big investors, whether they come or not. They are supposed to restart the economy. It is wrong, in my point of view" he said.
"The main source of the economic growth should be the local businessman. The one who is not going away just as much as the Carpathians aren't going anywhere. It doesn't take a multinational company to make a skiing lane and develop many other fields that the SMEs can do. The SMEs are the ones hope should turn to" he underlined.
The President took the opportunity to criticize the new taxes announced by the Romanian government led by Victor Ponta, Basescu's political rival. "I remember the crisis year of 2010 when extremely severe measures were passed. But they were thus adopted so they put no extra burden on SMEs. But now they are inventing taxes again to feed the budgetary apparatus. The diminution process of the budgetary apparatus must continue" Basescu said, also urging the privatization of state companies which generate huge losses.
The head of state alluded to the 1.18 million state employees Romania has and which are an enormous fiscal burden for the state budget, despite attempts to curb their number amid the austerity crisis. Basescu had previously compared the state apparatus with a fat man sitting on the shoulders of a weak man, namely the private sector.
His words came a day after PM Victor Ponta announced new taxes meant to fill a gap in the state budget following a poor collection of revenues. Among them, the increase by 0.07 Euros per liter of fuel excises, expected to raise 3 billion lei (676,000 Euros) next year, but which will ultimately lead to an increase of prices. The raise of prices will consequently put pressure on inflation.
Ponta argued the increase of fuel excise is meant to finance the construction of highways, but critics say he is looking for financial sources to support an increase of pensions and small salaries of state employees he had already promised for 2014.
Another tax will be one on special buildings, such as those ones operated by electricity suppliers. This will most probably, say analysts, determine energy companies to raise prices so they can cover losses from the new tax, another measure impacting on population.