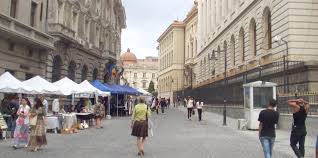 By Daniel Stroe – Bucharest
Romanians' trust in the state security apparatus has been growing while their confidence in the Church and political parties has been on the wane, a recently published poll shows.
As concerns the political institutions, Romanians trust the town hall the most (37.9 per cent), down from 41.3 % in May when the previous polls was done, followed by the Constitutional Court (35.7 %), Romania's highest judicial court whose popularity is up from 32.7 % in May, and the government (35.6 %), down from 37.3 per cent four months ago, the poll done by INSCOP reveals.
The parliament has a popularity rate of merely 25.8 per cent while political parties trail in the poll with 14.7 % of Romanians' trust.
The army leads the rankings as concerns the popularity of the executive institutions, with a 64.6 % rate of confidence, followed by the National Bank (50 %), the Romanian Home Intelligence Service (SRI – 48 %), the foreign intelligence service (SIE – 47.6 per cent), the National Anti-Corruption Department (DNA – 47.4 %) and the police (45 %), all of them with a higher rate of confidence compared to previous polls.
The rise in popularity of the state security structures comes as SRI got in the spotlight two months ago as it investigated alleged frauds committed during the baccalaureate, an exam which has been fraught with scandals over the past years amid bribe giving revelations. SIE has also improved its image after a widely covered extradition of Romania's most wanted – Syrian national Omar Hayssam, convicted for terrorism.
The Romanian Orthodox Church is still popular among Romanians, but its popularity declined by 5.2 points from 69.1 per cent as it measured in May, reaching the lowest level ever in post-communist Romania (63.9 %). Universities and the media come next in the top pf confidence among the social institutions.
Among the international institutions, UN, EU and NATO fill the first three positions (52.5, 49.1 and, respectively, 48.2 % popularity), while the World bank and the International Monetary Fund (IMF) hold the last places (34.7 and, respectively, 30.1 per cent).