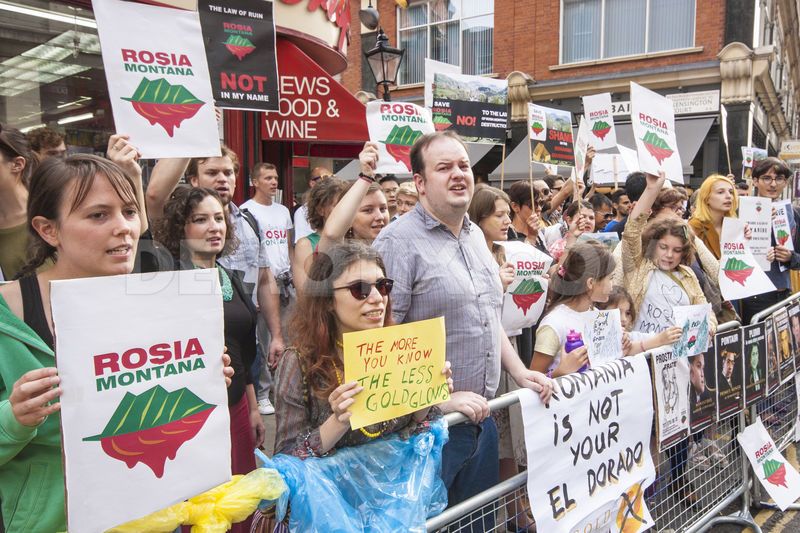 By Daniel Stroe – Bucharest
More than 15.000 people took to the streets last night in Bucharest and other thousands in other cities in what have been the largest peaceful protests so far against the Rosia Montana cyanide based gold mining project which is likely to be finally rejected due to massive public opposition.
The protests started early this month after the left leaning government in Bucharest passed a decree supporting the gold mining project, despite a warning from the Ministry of Justice the document is replete with unconstitutional provisions. But as the protests gained force, the liberals, the junior party in the three party ruling coalition, backed down and voiced opposition against the project, triggering a crisis and forcing the majority social-democrats to take defensive positions as well.
The project has divided the society. In Rosia Montana, a mining town in central Transylvania, people support the project which is said to bring economic benefits and about 1.000 jobs over the 16 years planned gold exploitation. More than 30 miners blocked themselves underground last week and warned they would go on hunger strike if the Parliament rejects the project, fearing they will lose their. A visit yesterday by PM Victor Ponta put an end to their protest.
A special parliamentary committee has been established to have its say on the project and then it will be submitted to a vote in the plenum of the legislative. Gabriel Resources, the Canadian company which has the largest shares in the Rosia Montana gold mining project, has threatened it would seek damages in international courts if the lawmakers reject the project which has been left in abeyance as far back as 1998.
The protesters last night blocked downtown Bucharest and chanted against the projects and asked for Ponta's resignation. Protesters were joined a group of people from eastern Romania where shale gas explorations are currently underway.
Last week, the juridical committee f the Romanian Senate rejected the gold mining project, reflecting the wider discontent among the lawmakers who will probably vote against the project. Tomorrow, the Parliament will approve the 20 member special committee on Rosia Montana which is expected to deliberate over a week before forwarding its conclusions to the plenum. But the growing protests and the strong opposition among the MPs who fear electoral repercussions have probably sealed the fate of the project.