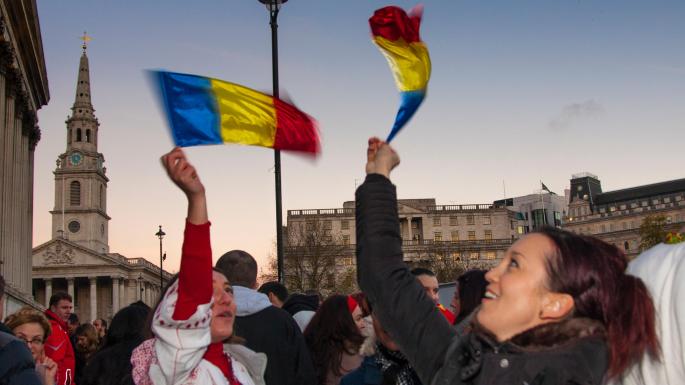 A surge in Romanians residing in the UK in 2017, as well as the continuous increase in Greek and other Balkan countries' nationals, has put paid to talks of a 'Brexodus' of European citizens ahead of Brexit.
The agreed 'implementation' or more accurately 'transitional' period following the day of the UK's exit from the EU, which is set to last until the last day of 2020, as well as the big labour market in Britain, seem to have attracted rather than discourage EU nationals from arriving on British soil, despite any concerns about Brexit.
For the first time ever, the number of Romanian nationals living in the UK has surpassed the number of Irish and Indian nationals. In total, 411,000 Romanians were living in the UK at the end of last year.
Around 164,000 of them lived in London, although large concentrations could be found in East England and the Midlands.
Romania is now second only to Poland (1.021 million nationals) in terms of foreign citizens living in the UK, only four years since the migration restrictions for Romanians and Bulgarians were lifted by the British government.
Bulgarians on the other hand are a much smaller community, reaching 86,000 in 2017. This is still the 19th largest foreign ethnic community in the UK, however, and the second largest of the Balkan contingents.
In 23rd place one can find Greece, with a steadily increasing number of migrants coming to the UK since 2011, when the country's financial crisis started to bite. There were an estimated 70,000 holders of Greek passport living in the UK last year, with more than 1/3 of them having made London their home.
Turkey comes in 29th in this Office for National Statistics list with the most populous foreign nationals' communities in the UK with an estimated 46,000 people, followed by Albania in 44th place with 26,000 nationals.
Serbia (with 7,000 nationals), Croatia (6,000) and Slovenia (5,000) are included in the sizeable ethnic communities of the UK, while the nationals of fYROMacedonia, Bosnia and Herzegovina and Kosovo are thought not to be exceeding 1,000 or so people each.
Cypriot nationals in the UK were only 19,000 last year, making Cyprus the 49th country with most nationals; however, the total number of UK residents having been born in Cyprus, both in the south and the occupied north, were almost 75,000.
People that may have a dual UK and other nationality or have been born to foreign nationals living in the UK are not included in the tallies of the sizes of ethnic communities. For instance, the number of 'Cypriots' in the UK is estimated to be about 300,000 people…. / IBNA