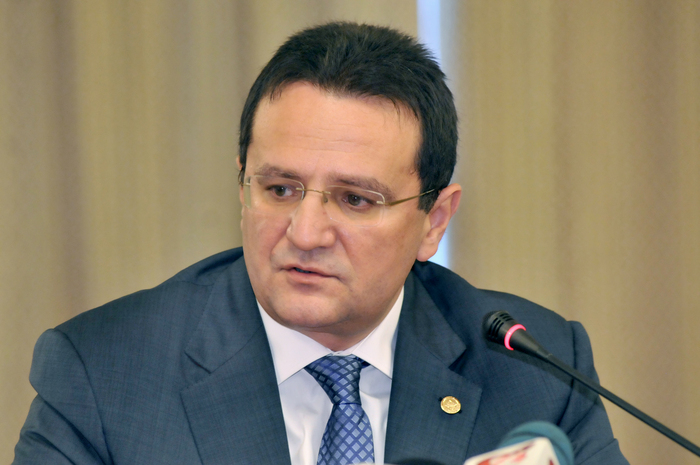 Bucharest, January 27, 2015/ Independent Balkan News Agency
The Romanian media was caught unawares today when George Mayor (photo), head of the home intelligence agency SRI, announced his resignation just when he was spearheading efforts to increase powers of the intelligence establishment in tracking down suspects of terrorism and large scale crime.
In a brief press release, the Romanian Presidency announced Maior has submitted his resignation, today, 27 January, and the President Klaus Iohannis has accepted it. There's no word on whom Iohannis may support for the vacant position.
Maior (47) was appointed director of SRI in 2006 by then President Traian Basescu who preferred to appoint heads of the intelligence services from the opposition ranks. Maior was then a member of the social-democrat party now led by PM Victor Ponta. He has been very active in reforming the secret service as Romania gained more importance as a NATO ally and the fight against corruption picked speed and force. SRI is coordinating a NATO working group tasked with ensuring Ukraine's cyber-security, as decided at the Alliance summit last fall.
His resignation comes amid a fierce debate in Romania on the so-called Big Brother laws – data retention and obligation for PrePay cards users to register – a year after the Constitutional Court rejected both draft laws as unconstitutional. The debate was reignited by the terror attacks in France this month. A week ago, Maior criticized the Constitutional Court for striking down the two laws which he said were necessary for protecting Romania and later on, judge Augustin Zegrean, head of the court, denounced pressures exerted by SRI.
Both SRI and SIE (Romania's foreign intelligence service) are now led by interim heads. Teodor Melescanu, former head of SIE, resigned last fall to run in the presidential elections and the post has been vacant ever since. SRI will be led by first deputy director Florian Coldea.
Speaking in an interview for daily Adevarul early this month, Iohannis argued he had no reason to change Maior, saying SRI works in full parameters. In October, a month before the presidential elections won by Iohannis, Maior said he would report to the new head of state and express willingness to resign. Iohannis called then Maior's position as "honorable".
Reacting to the news today, PM Ponta expressed his appreciation for Maior's activity over the almost nine years and warned against SRI "returning under political control", without detailing. But the Romanian media translated Ponta's warning as an attack against Iohannis, alluding the latter seeks the full control of the service. But a more plausible explanation came today from Georgian Pop, head of the parliamentary committee supervising SRI's activity, who said Maior resigned amid a general state of dissatisfaction in the service following the legal void created by the two draft laws having been rejected last year by the Constitutional Court.