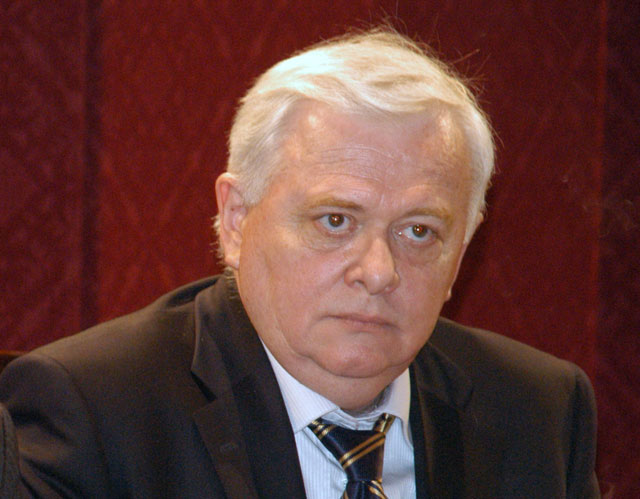 By Daniel Stroe – Bucharest
Viorel Hrebenciuc, a key figure in the social-democratic ruling party (PSD) and deputy speaker of the Chamber of Deputies, has today resigned from the Romanian Parliament amid an ample investigation concerning the fraudulent restitution of communist era confiscated woods.
"I have decided to resign, I want to keep my dignity as I have done all my life", he said. Hrebenciuc, known as one of PSD's strategists, has decided to withdraw hours before a judiciary committee in the lower house discusses a request submitted by anti-corruption prosecutors that his immunity be lifted, along another party colleague, Ioan Adam. "He is now available to justice institutions. His gesture is normal in a European country", Valeriu Zgonea, speaker of the Chamber of Deputies and party colleague, said. Following his resignation, Hrebenciuc can be arrested without a vote in the Parliament.
The National Anti-Corruption Department (DNA) had asked the Chamber of Deputies to lift Viorel Hrebenciuc and Ioan Adam's immunities following an investigation into illegal forests retrocession which caused 304 M Euros damage. Ioan Adam is considered the head of the crime group which ended in illegally distributing 43,000 hectares of woods in Bacau County, in eastern Romania. DNA argued the two lawmakers have to be arrested lest they can influence witnesses.
Viorel Hrebenciuc is accused of having used his influence to obtain retrocession for alleged heirs. The DNA prosecutors had also intercepted Hrebenciuc's phone calls in which he was negotiating a law on amnesty with another high ranking PSD member, following the debut of investigation. The former lawmaker was thus hoping to evade a prison term in one of the most important anti-corruption investigation in post-communist Romania. In exchange for support for an amnesty law, he said he would use his influence to put his protégées at the helm of the party. If Victor Ponta, the head of PSD, wins the presidential elections next month, the party job will be vacant and open for competition among the social-democrat leaders.
Hrebenciuc's case follows a spate of notorious investigations against social-democrat politicians. The Romanian media highlighted that 50 social-democrat lawmakers are under criminal investigations in different stages, which is 10 per cent of the whole number of MPs in the Romanian Parliament. Since the beginning of the year, DNA started criminal investigations against lawmakers, city councilors or mayors, sending shock waves across PSD.
If arrested, Hrebenciuc will pose an extra burden on Ponta's shoulders, weeks before the presidential elections on 2 November. The prime-minister reacted clumsily today after Hrebenciuc's resignation announcement, saying the lawmaker decided to withdraw to "protect" him during the electoral campaign. "I think we are going back to Ceausescu and Stalin's times and I don't want this", Ponta further said.