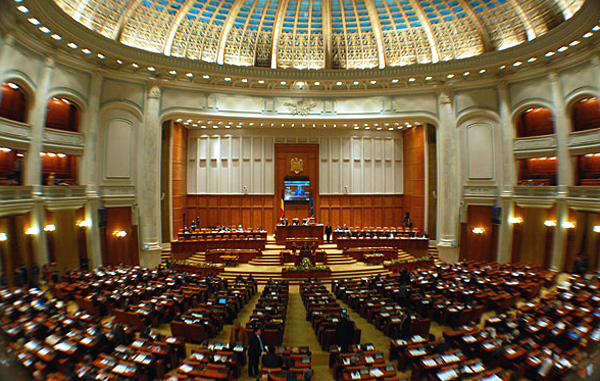 Bucharest, June 29, 2015/ Independent Balkan News Agency
By Daniel Stroe
The joint MP groups of the ruling Social Democratic Party (PSD) today decided to be absent from the vote on the appointment of Mihai-Razvan Ungureanu of the National Liberal Party (PNL) as director of the Foreign Intelligence Service (SIE), PSD acting national leader Rovana Plumb said at the end of a party meeting dedicated to the vote tomorrow.
"PSD does not support the nomination made by President Klaus Iohannis for the following reasons: it's a nomination made in a completely non-transparent manner, without any consultation; the PSD does not give up on the principle that a party should not entirely hold the power; and the third reason is that politically, this nomination has already been subjected to PSD's vote — PSD considered that, in his capacity as Prime Minister, Mihai-Razvan Ungureanu cannot represent the interests of the country, which is why we voted against the government led by him at the no-confidence motion moved in 2012," Plumb said at the end of the sitting of the PSD Standing National Bureau.
She said social-democratic lawmakers will be absent during the vote. "There was no vote on this decision; it was a decision made by consensus at a meeting of the joint MP groups; we will not support the nomination put forth by the President and will be absent from the vote session," said Plumb. As far as the attendance of the PSD MPs in the SIE Committee to hear Mihai-Razvan Ungureanu is concerned, Plumb said they will act according to the internal regulations and be there.
Last week, President Klaus Iohannis has nominated Mihai-Razvan Ungureanu, a senator with Iohannis' liberal party, to become the new head of Romania's Foreign Intelligence Service – SIE, a seat vacated last September when the former director Teodor Melescanu decided to join the presidential race. He held the office of Romanian Foreign Intelligence Service head before, in 2007-2012, under the office tenure of former President Traian Basescu. He resigned from office on February 8, 2012 to take up the helm of the Government which was to be, in less than three months, the first post-communist government in Romania to be deposed through a no-confidence vote.
Asked whether or not she will urge PSD's coalition partners, the Alliance of Liberals and Democrats (ALDE), not to attend the vote session on Tuesday, Plumb said the coalition will discuss social, economic and governmental matters. "As far as the position on the nomination goes, it will not be discussed inside the coalition," said Plumb. The vote, if ending in rejecting Ungureanu's nomination, will further divide President Iohannis and PM Victor Ponta, still in a hospital in Istanbul following a knee surgery, following the latter being charged with graft related acts by the country's anti-corruption prosecutors. Iohannis then asked for his resignation which Ponta refused to accept.