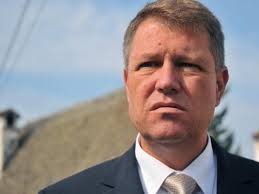 By Daniel Stroe – Bucharest
The Christian-Liberal Alliance yesterday chose Klaus Iohannis, German ethnic mayor of Sibiu, a city in central Romania, as candidate in this fall's presidential elections in which he will face front-runner PM Victor Ponta, with high chances the two make it to the run off.
Iohannis was picked by the alliance formed by the liberals (PNL), the largest opposition party in the Romanian Parliament, and the democrat-liberals (PDL), over Catalin Predoiu, former Justice minister, following internal polls which measured which one is credited with higher chances to lead an electoral battle against Ponta. Predoiu was designated prime-minister in a possible future government if Iohannis wins the elections and Ponta may be forced to resign following the failure.
"It is for the first time in 25 years when a political structure of such an amplitude chooses a Romanian national belonging to an ethnic minority and this despite of an unfair and pervert propaganda of our enemies. This is a signal which shows the ripening of the Romanian society"Iohannis , a slow speaking politician, said right after the official nomination.
Using the word propaganda, Iohannis referred to an out of the blue debate about his religion and ethnic roots, questioning whether Romanians would vote for a neo-protestant and German ethnic. A poll done by an institute close to PM Ponta which allegedly revealed Romanians prefer a kindred ethnic and an Orthodox.
In his speech, Iohannis also touched upon general distrust Romanian have for politicians. "I am running to change the rules of the political game. I want to believe we can restore trust among citizens that politics can produce effects for them. Romania can do more and can do better", Iohannis added.
Despite his slow speech, his words were firm and were quickly aimed at his political enemy to be, PM Ponta. "We cannot have a correct and effective administration if at its helm is a corrupted president who thinks only of the interests of the barons and the party gang. We cannot have a value based society if a phony and incompetent president leads it. I want less show, less noise and more seriousness", Iohannis pointed out, referring to Victor Ponta, whose social-democrat party has created itself the image of a political formation maneuvered by the so-called local barons, rich and influential local politicians and mostly corrupted.
Iohannis also made clear he would follow two key directions as a president: the pro-Western course of the country and the independence of the justice system, two areas where PM Ponta showed hesitation over the past two years since he came to power.
The latest poll, done late July, shows Iohannis winning at a very narrow margin against Ponta, 50.4 to 49.6. With Ponta's popularity likely to erode more in the next three months, Iohannis could enlarge the gap in the polls. But votes on the right side of the political spectrum are likely to be divided after Monica Macovei, former Justice minister and a key reformist, announced her independent candidacy. Cristian Diaconescu, former Foreign minister, is also running for the Popular Movement Party, a splinter party endorsed by President Traian Basescu.