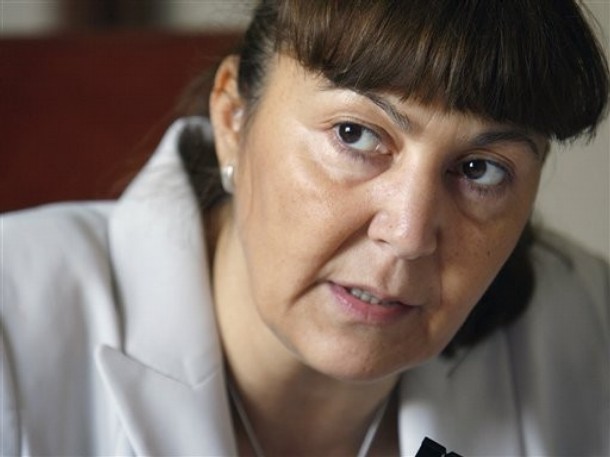 By Daniel Stroe – Bucharest
Monica Macovei, a key reformer in post-communist Romania and a candidate in November's presidential elections, has called for the organization of a national referendum on restricting lawmakers' immunity in the wake of a huge anti-corruption investigation concerning eight former ministers.
Macovei, a former minister of Justice between 2004 and 2007, said she would send a letter to president Traian Basescu proposing a referendum on restricting lawmakers' immunity to be held on 16 November when the second round of the presidential elections is scheduled. "Do you agree with MPs, ministers and the President of Romania not to benefit from any form of immunity other than the political opinions?" is the questions she proposed to be listed on the ballot to which Romanians should answer by "yes" or "no".
Her proposal comes a day after the National Anti-corruption Department (DNA) asked the Romanian Parliament, the European Parliament and the Romanian Presidency to lift the immunity for eight former ministers in four different governments, suspected of taking bribes and abuse of office in a corruption scandal which concerns the largest IT acquisition contract in post-communist Romania. The investigation concerns several IT contracts concluded as of 2004, such as Microsoft licenses, but also a border protection integrated system signed with EADS, totaling more than 1 billion Euros.
Macovei says the investigation, also referred to by the Romania media as Microsoftgate, shows the "hideous face of the political class and that corruption is a trans-party scourge" and that politicians who argue in TV talks-shows in reality work together behind the curtain and make all sorts of financial arrangements for their own profit and at the expense of the tax payers. "Most of the political class is a gangrene which sucks money out of our pockets, which lies to us and cheats and deceives us. And in the end we see no difference in how these people in different parties act" she said in a press conference.
Lifting the immunity for a lawmaker under criminal investigation for corruption is a difficult procedure and requires the vote of the plenum of the respective chamber. In most of the cases, such votes ended with lawmakers saying No to the immunity lifting application forwarded by DNA which prompted the European Commission to criticize the Romanian Parliament in its annually report on progress of justice reforms. To citizens, such votes leave the impression of similar interests connected clan which shields behind a flawed law hence the Parliament's low popularity in polls.