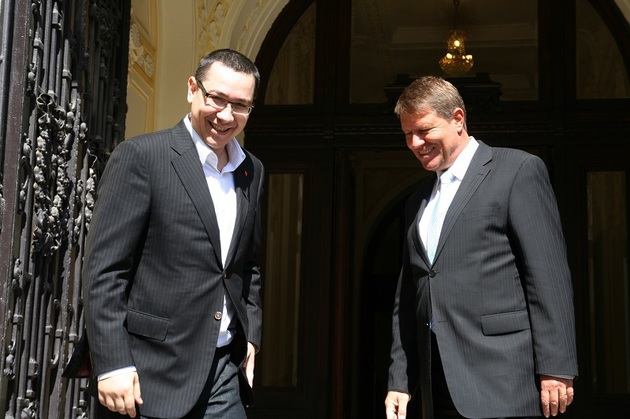 By Daniel Stroe – Bucharest
PM Victor Ponta and Klaus Iohannis, head of the National Liberal Party, will face off in the second round of presidential elections in Romania on 16 November, according to results issued by the Central Electoral Bureau, at the end of a first round marred by organizational problems in the diaspora voting process.
After more than 98% of the votes were counted, results show Ponta was backed by 40.3% of the voters while Iohannis, mayor of Sibiu, a city in central Romania, received the electoral support of 30.4% of the Romanians. The turnout was 53.1%, a little lower than the first round of the elections held in 2009.
Third came Calin Popescu-Tariceanu, former PM in 2004-2008 and an ally of PM Victor Ponta, with 5.4%, followed by Elena Udrea, a candidate backed by acting President Traian Basescu, then reformist Monica Macovei, a former minister of Justice, voted by 4.4% of Romanians.
As Ponta and Iohannis gear up for the second term, the other candidates are expected to make public announcements about whom they will support on 16 November. Ponta's social-democrats are said to be already eying either Tariceanu or George Maior, current head of SRI, Romania's internal intelligence service and a former member of Ponta's party, with a decision expected to be made tomorrow. But many say Tariceanu's poor result doesn't warrant a candidacy for the position of head of government.
Much of the attention yesterday turned to the voting process in the diaspora, where thousands of people queued to cast their ballot, but were left outside embassies and consulates when the clock struck 9 PM. A protest was held last night in front of the Foreign Ministry headquarters after revolted Romanians mobilized on social networks and asked for explanations for the poorly organized electoral process in the diaspora.
Many Romanians living abroad complained about fewer polling stations that in 2009 and accused officials deliberately stalling the voting process so they prevent as many Romanians living abroad as possible from voting. One explanation could be that in 2009, when Basescu won a second term against then social-democrat candidate Mircea Geoana, the balance was tipped by the results in the diaspora where people largely vote against the social-democrats and for a rightist candidate instead.
Basescu, Ponta's arch-rival, called on Foreign Minister Titus Corlatean and Minister for the Diaspora Bogdan Stanoevici to resign due to "serious flaws" in organizing the voting process abroad. In his turn, Ponta said there were as many polling stations as back in 2009, but this time he said "the voting was no longer fraudulent", even though no evidence has ever been brought in support of this theory. The Public Policy Institute called on the Romanian authorities to amend the electoral law and allow vote by correspondence to prevent incidents such as the ones which occurred yesterday in Paris, London, Munchen, Torino, Milano, Madrid and even in USA. In many cases, police has been called on the grounds to prevent clashes between the angered Romanian voters and electoral officials.
Analysts say it is too early to launch any verdict for the second round in anticipation of votes redistribution. Most probably, Tariceanu would support Ponta, with Udrea and Macovei expected to back Iohannis. But, like in 2009, the diaspora could again tip the balance, with probably a higher turnout on 16 November after the obstacles encountered yesterday, expected to mobilize voters. A larger turnout in the country is also likely to favor Iohannis, a German ethnic who distanced from the traditional manner of leading an electoral campaign with slow-spoken speeches and lacking far reaching political attacks.