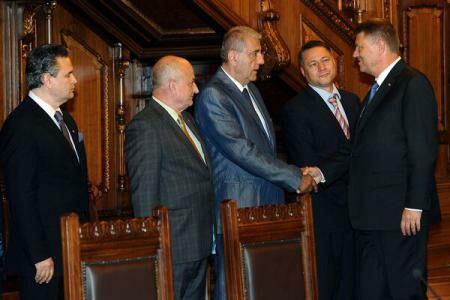 Bucharest, May 21, 2015/ Independent Balkan News Agency
Romanian President Klaus Iohannis held a first round of consultations with a delegation made up of representatives of the business environment for talks on topical matters referring to the stage and prospects of the Romanian business environment, as the Romanian Government readies to pass a new Fiscal Code.
In this context, according to a document released by his administration, the head of state maintained that for Romania "a healthy economic vision means a competitive business environment, taking into account the social protection also, a competitive economy in which the domestic capital and the foreign investments should capitalize as well as the existing economic opportunities for the job creation and general economic welfare."
President Iohannis said in the meeting that this first round of consultations mainly had the role of assessing the opportunities, the issues and the priorities of the Romanian business environment, highlighting the interest in stimulating as powerfully and sustainably as possible the private initiative and the entrepreneurship in the Romanian economy.
Leaders of business organizations, employer's associations, as well as of Romania's Chamber of Commerce and Industry were present in the meeting. The attendees asked Iohannis not to sign into law the new Fiscal Code, arguing the new set of measures will harm the business environment. They also urged the head of state to set up a dialogue committee which shall regularly discuss the needs of the business environment.
The business environment representatives also said that, through such meetings, President Iohannis provides them with the opportunity to express their opinions concerning the aspects influencing the good functioning of the business environment. They also highlighted predictability, stability and transparency of the economic rules represent essential conditions for encouraging entrepreneurship and investments. President Iohannis agreed with hosting regular meetings with them.
Moreover, according to the cited source, the business environment representatives supported the need for a favorable economic climate, meant to stimulate the creation of added value in and for the Romanian economy, mainly in the areas representing competitive advantages for our country.
"During the discussions, one of the main concerns of the business environment was represented by the significant increase in the quality of the legislative act, so that the legislation and the governmental policies should truly solve the problems the business environment and the economy in general are confronted with. In this context, beyond their economic quality of employers, the business environment representatives are real partners in the social and institutional dialogue," the Presidential Administration said.
Source: Agerpres