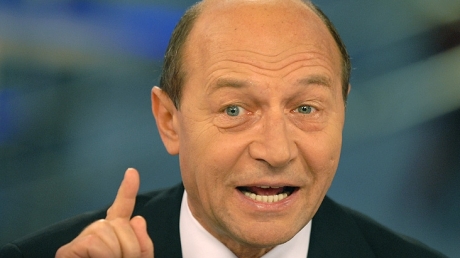 By Daniel Stroe – Bucharest
The Romanian Presidency has today issued the results of the latest yearly medical check President Traian Basescu went through three months ago after a rival TV station alleged he was suffering from Parkinson and thus he can no longer fulfill official duties.
The latest medical check occurred on 10 July at the Military Hospital in Bucharest and the medical reports concludes "President Traian Basescu is medically capable for fulfilling official duties".
The president's move comes a day after Romania TV, a station run by a lawmaker of the ruling party and a close politician to PM Victor Ponta, Basescu's political arch-rival, alleged the head of state had suffered two strokes and had secretly visited a hospital in Vienna, citing medical sources. The station also maintained Basescu is now suffering from Parkinson and showed some footage which was meant to suggest the President's hands were shaking. Romania TV had not applied for a point of view before airing this footage.
The images sparked fury among Romanian politicians and the media which denounced a serious ethical side-slip. The footage comes days after Basescu disclosed PM Pont was a secret agent of the Romanian foreign intelligence service SIE when he was a prosecutor, which is against the law.
This morning, before embarking on the plane to attend the Europe-Asia summit in Milano, Basescu reacted to the allegations aired by Romania TV. "I would like to make some clarifications because I've seen a TV station has stooped so low in its denigration propaganda – I've heard about strokes, me having been admitted to the Military Hospital, Vienna – I would tell them I am authorizing the ten medics in the committee formed this year when I had the medical check up to give information to any journalist who is interested in the President's health. There's been no such health related incident, at least over the ten years (the two consecutive presidential terms). I do not know what will follow after I end my term. I can tell you I have only one disease – I am thieves-sick and this cannot be cured" Basescu said.
The latest developments are further proof all the weight and means are thrown into the electoral battle before the first round of presidential elections on 2 November. As Ponta has been targeted by many attacks recently, his political allies cling to anything to counteract, but suck attacks often backfire. Many analysts say the political fight is only at the beginning, with many revelations which may tip the electoral balance yet to come.