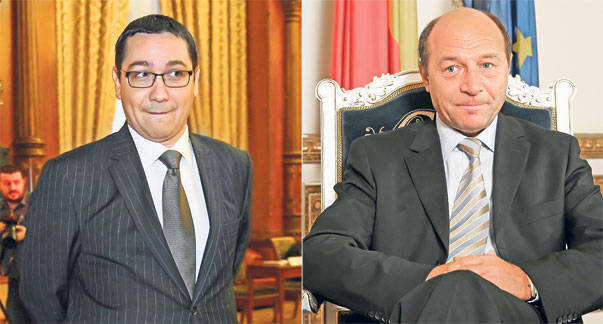 By Daniel Stroe – Bucharest
An unfortunate statement made by the Romanian PM Victor Ponta, who compared President Traian Basescu's ten years office with the Nazi regime's aftermath in Germany, has drawn the ire of both diplomats and the Jewish community in Romania.
"I think the effects on the Romanian society left by the 10 years' Traian Basescu's regime are similar enough with the ones left by the Nazi regime in Germany" Ponta said during a TV talk-show, arguing that, after Basescu's second term ends late this year, the Romanian society has to be "debasificated".
His comparison irritated the Jewish community and Israeli diplomats. Today, the Israeli ambassador, Dan Ben-Eliezer, went to the Government's seat where a meeting with Ponta was supposed to take place. The Israeli diplomat is said to have met an adviser to Ponta in return with whom he had a discussion.
Aurel Vainer, Romanian lawmaker and president of the Federation of the Jewish Communities in Romania, called Ponta's comparison "an unacceptable and immense political mistake". "It hurts us enormously to hear a parallel between the Nazi regime and these years of Romanian democracy (…) However hard and tough the political battle may be, we cannot accept and we cannot believe a political leader can nowadays make such statements" Vainer added in a press release.
The British ambassador, Paul Brummell, also took a stand in this row, arguing "Hitler was Hitler" and he cannot see another such leader in the European politics. Former US ambassador to Romania, Mark Gitenstein, also said he was disappointed with this type of rhetoric. Last but not least, Klaus Iohannis, the German ethnic mayor of Sibiu, a city in central Romania and Ponta's main rival in the presidential elections this November, has called on the prime-minister to resign, following this irresponsible statement.
Defending himself, Ponta denounced the "propaganda" deployed against him. "I find all this propaganda against my political statements concerning Mr Basescu as being exaggerated. When Traian Basescu said about me and us that we are Bolsheviks and communists, I do not think he denied crimes had been committed by communists. The only person I had to settle things with and I did was Mr Vainer, and this is why I went to the minorities' parliamentary group, who had been misled by the propaganda in the media" Ponta reacted.
Without expressing apologies, he further explained the statement was made in the context of "the political battle" between him and President Basescu and was sparked out of the "radicalization of the opinions we have about each other". Ponta's words only come to worsen his image in the West, already tarnished by his endorsed political tsunami in the summer of 2012 when he tried to oust President Basescu, encroaching on the country's democratic and constitutional principles.