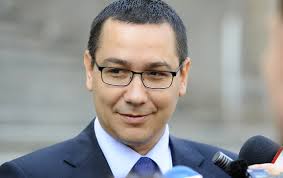 By Daniel Stroe – Bucharest
Romanian PM Victor Ponta has today refused to attend an electoral debate at the Western University in Timisoara, the city where the anti-communist revolution started in December 1989, following a challenge launched by his rival in the second round of presidential elections, Klaus Iohannis.
Iohannis said he had accepted a proposal coming from the rector of the Western University in Timisoara and challenged social-democrat Victor Ponta to join the debate. But Ponta, who had refused to attend similar events over the electoral campaign during the first round, said No.
"The proposals launched (by Klaus Iohannis) are noble – Western University, the Parliament Palace – but he can as well invoke the Romanian Academy, The Writers' Union, a military base, a club in a village, an asylum for the elderly or a factory. Any place in Romania is legitimate to host a presidential confrontation", Ponta reacted on Facebook.
He went further and said Iohannis' proposals for public debates is an offending gesture at the expense of the Romanian media since he argues the former refuses to attend such debates at TV stations and rejects these discussions to be anchored by journalists.
"But just because we cannot go anywhere, we can accept that the media is that global institution that can bring the necessary meeting between the presidential candidates in every Romanian household, Timisoara, Covasna, Bucharest and Suceava, be them professors, miners, students and pensioners", he added. The prime-minister said he had accepted invitations from four TV stations which he says "cover a wide spectrum of political orientations and an extremely diverse public".
But Iohannis argued he wanted a debate in neutral and balanced environment and within a format which is not pre-established by the campaign teams. The ethnic German mayor of Sibiu thus implied Ponta may be favored by TV stations moderators, especially since the PM is a common guest of two of these stations owned by his political allies. Iohannis accused Ponta of dragging his feet over such challenges.
"As I said from the very beginning, I believe it is absolutely necessary the two candidates left in the presidential competition have a debate based on the vision and project each has for Romania. Out of respect for citizens, such an electoral debate can only take place in an equitable and neutral framework for both candidates and I also believe such conditions can be ensured by the Western University in Timisoara", Iohannis argued. He went on to call Ponta's proposal of having these debates on a TV set a "simulacrum" instead of "having the courage to face a correct idea confrontation in an unbiased framework".
As Ponta is currently negotiating electoral support with the candidates defeated in the first round, Iohannis said he wouldn't do the same arguing votes cannot be traded, in another swipe at his social-democratic rival who got 40.4 % of the votes. Iohannis won the backing of 30.3 per cent of Romanians and will have to cover this gap over the next 10 days in order to defeat Ponta who is likely to get votes from his post-electoral allies.