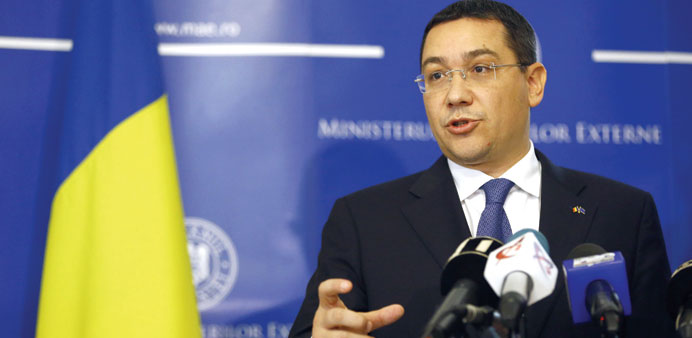 Bucharest, April 29, 2015/ Independent Balkan News Agency
By Daniel Stroe
Romanian Prime Minister Victor Ponta has today started a six day tour in the Gulf countries, visiting four of them – Saudi Arabia, Qatar, Kuwait and the United Arab Emirates – with a view to mainly strengthen diplomatic and economic ties, the Government reported in a press release.
Ponta will be accompanied by an important delegation that includes representatives of Romania's Chamber of Commerce and Industry and a parliamentary group.
"The main objectives of the tour are boosting political and diplomatic dialogues, deepening economic ties and diversifying sectorial dialogue", the Government explained.
"The visit will be an important stage in the development of bilateral relationships with all the four countries, as this is the first visit by a Romanian Prime Minister to Qatar and Saudi Arabia since the establishment of diplomatic ties between them and Romania, as well the first visit to the United Arab Emirates by a Romanian Prime Minister over the last 24 years (the previous visit happened in May 1991), as well as the first such visit to Kuwait over the past 12 years (the previous one was in June 2003)," it underlined in the quoted document.
The tour coincides with the 20th anniversary of diplomatic ties between Romania and Saudi Arabia and the 25th anniversary of diplomatic ties between Romania and Qatar this year.
The text also reads the visit is designed to also consolidate commercial relationships, which stand great potential for growth and diversification, and draw investment from these countries to various sectors in Romania.
"Also tabled will be proposals for projects and programs to further cooperation in various sectors, such as construction, infrastructure, agriculture, industries, energy (gas and oil), IT, tourism and healthcare. University cooperation will also feature in the conversations," the text further says.
Part of the visit, economic progress as well as the business and investment opportunities offered by Romania will be presented, and bilateral cooperation agreements and protocols in the areas of foreign affairs, education and research, double taxation avoidance, investment protection, tourism, healthcare, air transport, oil and gas will be signed. Regional security developments will also be tackled at the meetings.