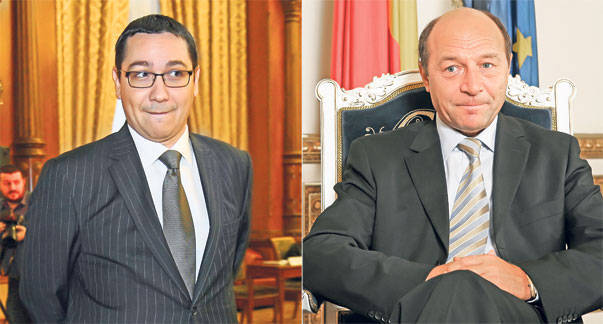 By Daniel Stroe – Bucharest
Romanian PM Victor Ponta last night said he was tabling a proposal, during a meeting of the ruling coalition, to consider a vote in the Parliament on whether President Traian Basescu should resign following a corruption scandal in which the head of state's brother is involved.
"It is obvious that anywhere in Europe, a president (…) whose family member is involved in such a thing has a correct political decision at his disposal, namely the resignation. (…) There is a meeting of the ruling coalition tomorrow (today) and we will discuss the possibility of a parliamentary action", Ponta told Antena 3 last night.
At the same time, today, the Senate speaker, Calin Popescu Tariceanu, said he would propose the senators to pass a declaration in which they ask for Basescu's resignation. Tariceanu urged the speaker of the Chamber of Deputies, the Romanian Parliament's lower house, to pass a similar declaration. At the same time, the Senate speaker said he would file a notification with the country's Superior Magistrates' Council to investigate the circumstances under which the file in which Basescu's brother was investigated had been withdrawn from a prosecutor.
On Friday, the president's brother, Mircea Basescu, was arrested for 30 days by order of the Bucharest Court. The scandal broke out after a TV station aired a video last Wednesday allegedly showing Mircea Basescu negotiating the release of Sandu Anghel, aka Bercea Mondialul, a Roma shady businessman now serving an eight years prison term after stabbing a nephew, with the latter's son. Mircea Basescu today denied he had asked for or accepted 250,000 Euros to intervene by his brother, the President, and secure Bercea's release from prison.
The optics that justice and freedom have become merchandise which can be sold or bought is unacceptable, judges at Bucharest Court said motivating the arrest decision. Basescu's lawyers filed for appeal which is going to be considered by the Courts of Appeal on Friday.
But voices across the political spectrum said President Basescu, who called on justice to weigh on his brother's case, should not resign just to serve Ponta's political interests, such as bringing the presidential elections, scheduled for November, sooner so the PM stands serious chances of winning. "I have not seen the slightest hint the President was involved in this deal with Bercea Mondialul. Of course I understand Ponta and PSD (his party, the social-democratic) since they want to organize the presidential elections as soon as possible, hoping he would win them" Vasile Blaga, the leader of the democrat-liberals, one of the main opposition parties said. Others, such as Laszlo Borbely, one of the leaders of the Hungarians Democratic Union in Romania, one of the parties of Ponta's ruling coalition, warned Basescu's resignation would spark political instability.