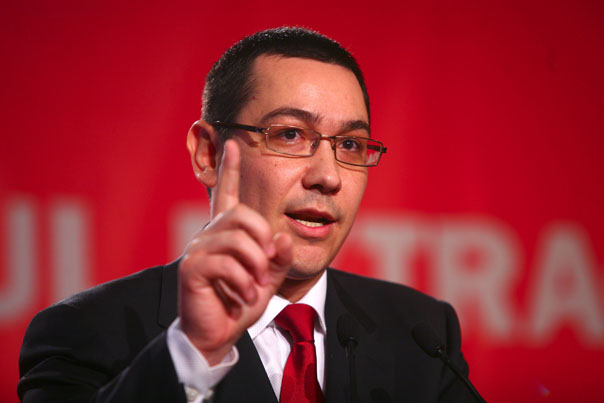 By Daniel Stroe – Bucharest
Romanian PM Victor Ponta (photo) underlined today, at the end of a meeting of his Social-Democrat Party (PSD), the main of the two party ruling coalition, that Romania is stable from an economic point of view and has embarked on a positive trend thanks to good budgetary fiscality and loan credibility.
"Romania is at this point stable, has a positive trend, despite the extremely difficult context, because both in the region and in the rest of the EU things are on a negative trend. But we have a big potential compared to the other countries in the region: energy, agriculture, fields from where we get very good news (…) So we have good chances" he said.
Ponta also pointed out that over the past six months about 200.000 new jobs have been created in the private sector. "Compared to last fall, when we had 4.9 million registered employees, now we have 5.1 million. It is a good omen, but clearly our objective is to have a number of employees equal to the number of pensioners. That means over 6 million" he added.
The PM also highlighted the need to restart hiring in the health and education fields, after thousands of posts have been blocked amid the austerity measures taken as of mid-2010.
Ponta's statements came a few days after President Traian Basescu said Romania is set to have a 2 per cent economic growth this year without taking into account the good agricultural output many foresee for this year.
"Right now, based on the external debt and public deficit (2,9 per cent), Romania returns among the countries with a deficit within the Maastricht Treaty parameters and again becomes a credible country on the international markets" Basescu aid in a televised speech in which he explained the austerity measures passed almost three years ago, of which a 25 per cent salary cut for state employees.
He also revealed the crisis has trimmed the state apparatus by about 200.000 employees, down to 1.2 from 1.4 million. Romania currently has an unemployment rate of 6.7 per cent, below the European average rate of 10.9 %, Basescu also disclosed. But he warned politicians against popular measures which could spoil the feeble economic balance. "The lesson of this crisis which has cost 22 million Romanians must remained instilled in every politicians' mind" he underlined.