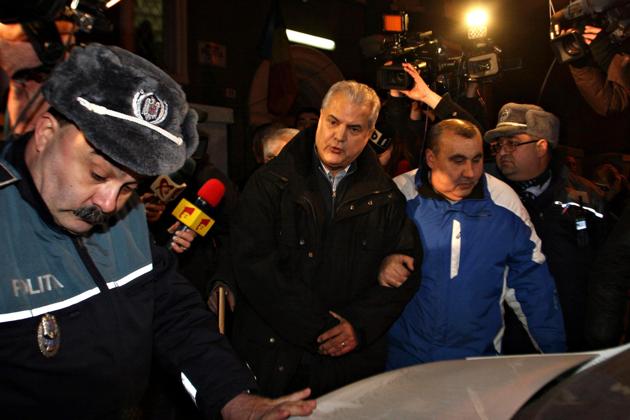 By Daniel Stroe – Bucharest
Former Romanian PM Adrian Nastase (2000-2004) was last night sentenced to another four years in prison for corruption, less than a year after he was released from prison after serving part of a two years sentence for the same charges, a severe blow for the ruling coalition, but a step forward for the frail Romanian judiciary system.
Nastase, who used to run the social-democrat party (PSD) with an iron fist, was sentenced to four years in prison for taking bribe and banned from exerting certain rights for five years. He was also sentenced to three years in prison for blackmail, but the judges of the High Court of Cassation decided on a joint four years sentence.
His wife, Dana Nastase, was also given a suspended three years sentence for complicity and banned from certain rights for four years. She will be on probation for eight years from now on, judges also decided. The Nastases will also be deprived of about 1,8 million lei (about 400,000 Euros) which the court decided to confiscate.
Nastase was accused that, between 2002 and 2004, the last two years of his PM office, he received, through his wife and directly, goods and services worth of 630,000 Euros. Most of these goods were imported from China while the services consisted of repairmen works done at his villa in the native village of Cornu, north of Bucharest. The products were delivered by the former Romanian counsel in China, Ioan Paun, while the services were provided by Irina Jianu, then the head of the state construction authority, in return for both of them remaining in this position. Jianu was also sentenced to four years of prison last night.
Nastase was previously sentenced to two years of prison for corruption in June 2012 and released after serving eight months of the sentence, in March 2013. "A terrible, extremely unjust decision to my mind, a dirty revenge" Nastase reacted last night as he left the police station cuffed to the Rahova prison near Bucharest. He may serve less than a year of his sentence his lawyer said last night.
PM Victor Ponta, whose political mentor Nastase was, raised eyebrows again last night when reacting to the court's decision. "He is a political convict (…) a victim of the Basescu regime" Ponta said, referring to President Traian Basescu, Ponta's political rival. He even went further and likened Nastase's case with Yulia Tymoshenko's situation.
Nastase's second conviction comes shortly before the European Commission releases its annual report on the progress of justice in Romania and Bulgaria. Many say Nastase's conviction marks the beginning of an all-out political fight in 2014 which will bring presidential election in November and which will probably pitch PM Ponta against a right wing candidate endorsed by Basescu. Many are now expecting a controversial law on amnesty to be passed to release Nastase and exempt other politicians under criminal investigation, even though the civil society and the West warned against such a decision.