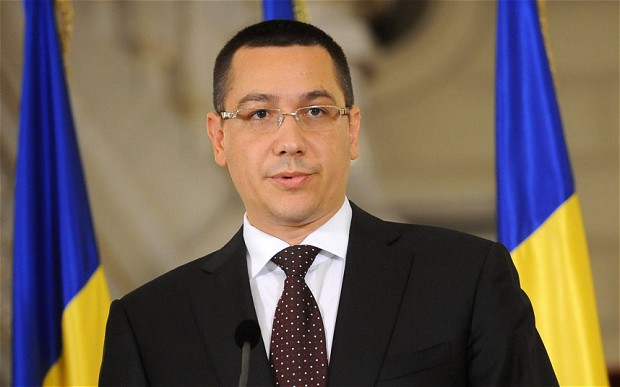 By Daniel Stroe – Bucharest
Romanian social-democrat PM Victor Ponta is to officially announce his candidacy in the presidential elections this fall in a widely covered event to be held later this day in Craiova, a city in SE Romania, run by a fellow party member.
"I will run. On Tuesday, 29 July, I will ask for support for candidacy in my party" Ponta told daily Adevarul a few days ago. In a separate statement, the prime-minister reminded his party colleagues 29 July is a date with a high symbolical significance – the very day when two years ago a referendum for the impeachment of President Traian Basescu, Ponta's political arch-rival, was held. The referendum failed though after not meeting the constitutional turnout, even though 7.4 million people voted to remove Basescu.
Ponta's candidacy has already been agreed upon by party leaders in a meeting on 30 June, the event today remaining just a mere formality. But Ponta will have to rise above the 37 per cent his party got at the Euro-elections in May, well below expectations, if he wishes to make it to the Cotroceni Palace, the seat of the Romanian Presidency.
Most likely, Ponta will face Klaus Iohannis, the German ethnic mayor of Sibiu, a city in central Romania, in a second round. According to a poll done by the Social Research Bureau last week, Iohannis will be voted by 50.4 % of the Romanians, while Ponta will secure 49.6 per cent of the votes in the second round of presidential elections. Even if the difference is insignificant, analysts say the trend is likely to develop as Ponta's popularity continues to erode.
But Ponta may capitalize on Iohannis' religion and ethnicity, as he suggested a few days ago. A new research released these days shows voters prefer an Orthodox and Romanian ethnic president, even if Romanians appreciate Iohannis as being serious and respectable.
The prime-minister will have to face tough questions about high ranking party members being either arrested or indicted for corruption, in a spate of arrests made by the National Anti-Corruption Department (DNA), with one suspect now wanted internationally. Ponta is now caught between the reflex of pointing to these arrests as politically motivated acts and the pressing request of the EU and USA that Romanian politicians ensures the independence of the judiciary. Ponta will also have to let go of the party leadership if he is elected president which will probably spark an internal power battle in his party.
About 6,000 people will attend tonight's social-democrat meeting in Craiova, a city Ponta chose following a very good result in May's Euro-elections. The city is also run by mayor Olguta Vasilescu, party member, who said the events today will be austere.