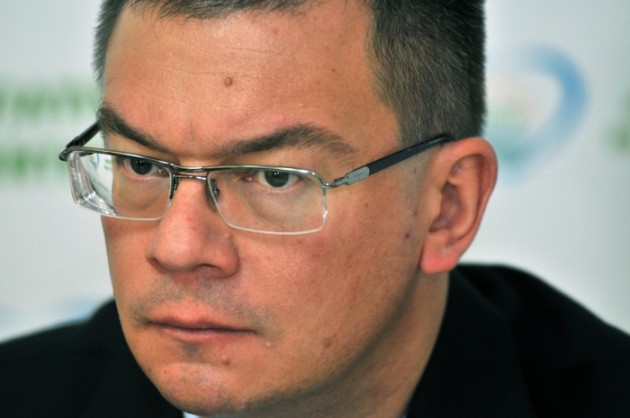 Bucharest, June 24, 2015/ Independent Balkan News Agency
By Daniel Stroe
President Klaus Iohannis has nominated Mihai-Razvan Ungureanu (photo) to become the new head of Romania's Foreign Intelligence Service – SIE, a seat vacated last September when the former director Teodor Melescanu decided to join the presidential race, reads a release of the Presidential Administration.
The text points out that, according to the Constitution provisions, the head of state informed the chairs of the two Chambers of Parliament of this nomination and the Legislature is going to adopt a decision in this respect.
Mihai-Razvan Ungureanu, colloquially known as MRU, was born on September 22, 1968 in Iasi. A 1992 graduate of the Department of History and Philosophy of the Al. I. Cuza University of Iasi, he holds a master's degree awarded in 1993 by the Centre for Jewish and Hebrew Studies, St. Cross College, University of Oxford, the UK. On March 27, 2004 he was awarded a doctor's degree in modern history by the History Department of the Al. I. Cuza University of Iasi, for a thesis on conversion and integration in Romania's society in early modern times.
On July 6, 2012, he initiated the NGO Centre-Right Civic Initiative. On September 7, 2012, he was elected chairman of the Civic Force Party (PFC) at an extraordinary meeting of the party's National Convention.
Ungureanu, a history professor by training, has held several offices. In 1998-2001, he was a state secretary with the Romanian Foreign Ministry; in 2001-2003 he was the regional envoy of the South-East Europe Stability Pact; in 2003-2004 he was deputy coordinator of the South East European Cooperation Initiative based in Vienna; Romania's special representative to the South East European Cooperation Initiative (Vienna, 2007).
He was Romania's foreign minister December 29, 2004 — March 22, 2007. He held the office of Romanian Foreign Intelligence Service head in 2007-2012, under the office tenure of former President Traian Basescu. He resigned from office on February 8, 2012.
Ungureanu was prime minister February-May 2012, in April the same year he shortly held the office of interim environment and forestry minister. His Government was deposed following a no-confidence vote which brought current PM Victor Ponta in power.
In the parliamentary election of December 9, 2012, he became senator on the lists of Right Romania Alliance (ARD), in College 1, of Arad Municipality. After President Klaus Iohannis was elected, Ungureanu became his personal adviser. In the National Liberal Party (PNL) he holds the first vice-president chair.