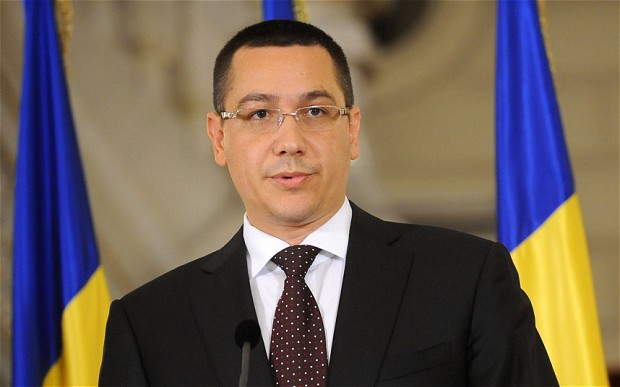 By Daniel Stroe – Bucharest
The Romanian social-democrat PM Victor Ponta has reiterated his purpose to overtax monthly salaries over 1000 Euros among the state employees, but his intention may irk his fellow ruling coalition partners, the liberals, who voiced opposition to the project.
Outlining his main fiscal policies for the next period, Ponta said he would keep the 16 per cent flat rate already in force, but again underlined his plan to introduce a 10 per cent tax for the state employees earning more than 4.500 lei per month (about 1000 Euros).
"The 10 per cent tax for the state employees' salaries exceeding 1000 Euros does not affect the flat rate" Ponta underlined in an intervention for Romania TV.
In May last year, shortly after taking power, Ponta mentioned for the first time his plans to introduce what he called a 16 per cent "solidarity tax" for state salaries and pensions going beyond 4.500 lei per month. He also said he would propose different tax rates varying on the size of the salaries, both in the state and private sector.
But his coalition partner, Crin Antonescu, the head of the liberals, warned such an initiative exceeds the fiscal agreements the two parties had when laying the basis of the ruling social-liberal union (USL). "I do not think this is a solution" Antonescu said at that point. The two are already at loggerheads over many issues, ranging from nomination of top prosecutors and cohabitation with President Basescu, USL's main political rival.
Despite this, Ponta seems intent on carrying out his plan. A few days ago, in an interview to the state news wire Agerpres, he underlined that following the first trimester of 2013, provided it ends within the fiscal limits, the government may seek to introduce the now 10 per cent tax on the bulky state salaries.
The social-democrat leader may seek electoral capital out of such a decision after about three years of austerity during which state employees' salaries were cut by 25 per cent, regardless of their size, a move which frustrated low income Romanians. A solidarity tax on big fortunes was rejected last year by the Parliament, many lawmakers seeing it as a populist move.