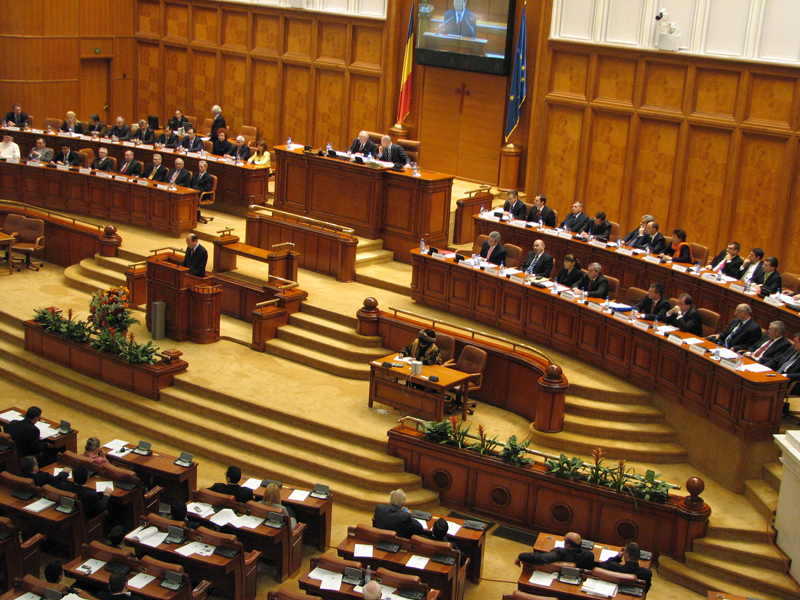 By Daniel Stroe – Bucharest
The Romanian lawmakers have today passed, with 344 votes in favor, a declaration in which the Parliament asks for the resignation of President Traian Basescu whose brother is involved in a corruption scandal which the MPs argue "seriously and irremediably" affects the presidential institution.
The vote is a mere symbolic gesture and carries no juridical effects.
"Given the serious and irremediable damage done to the presidential institution by the president's brother's involvement in extremely corruption deeds, as well as his relation with persons belonging to very dangerous organized crime groups which have also been used electorally by the Romanian President (…) the Romanian Parliament (…) passes the present political declaration: the President of Romania, Mr Traian Basescu, is no longer entitled to ensure the prestige, independence and legitimacy of the presidential position, grounds on which he should immediately assume the resignation" reads the declaration which was rushed through the Romanian Parliament in a matter of days.
Speaking after the vote, PM Victor Ponta said that "some political and moral standards have been set which the future president will have to respect". The vote today came a day after the Parliament, dominated by Ponta's lawmakers, passed a controversial amendment allowing local elected officials to directly manage EU funds in local companies, avoiding accusations of incompatibility and conflicts of interests.
On Friday, the president's brother, Mircea Basescu, was arrested for 30 days by order of the Bucharest Court. The scandal broke out after a TV station aired a video last Wednesday allegedly showing Mircea Basescu negotiating the release of Sandu Anghel, aka Bercea Mondialul, a Roma shady businessman now serving an eight years prison term after stabbing a nephew, with the latter's son. Mircea Basescu today denied he had asked for or accepted 250,000 Euros to intervene by his brother, the President, and secure Bercea's release from prison.
The ruling parties' lawmakers accuse Basescu of knowing about his brothers' actions, but the head of state clearly rejected this, pointing out he had no idea and neither did the state security agencies inform him. Yesterday, George Maior, director of SRI, the Romanian home intelligence service, confirmed the President has not received any warning or notification from his agency about his brother's entourage and actions.
The scandal is likely to continue and the ruling coalition is using it to damage Basescu's image even if the latter said he would let the justice have its say in his brother's case. But the scandal may backfire on Ponta, with Basescu standing out in the end as a staunch supporter of the independence of justice which the PM has so far failed to prove.