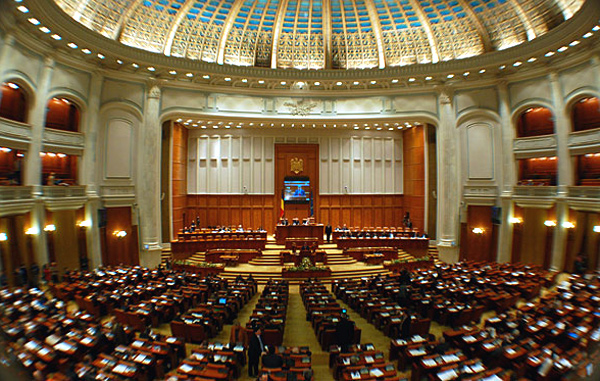 Bucharest, February 12, 2015/ Independent Balkan News Agency
By Daniel Stroe
The Romanian Parliament's upper house has today shielded a senator from being prosecuted by the country's DIICOT (the General Prosecutor's Office's branch which deals with organized crime and terrorism) by rejecting a request submitted by prosecutors that Varujan Vosganian is officially indicted.
The vote today deals another blow to anti-graft efforts in a period when anti-corruption prosecutors have made great steps in fighting this social scourge in a country still widely seen as tainted by corruption. The European Commission has repeatedly criticized the Romanian Parliament for protecting lawmakers under corruption charges by voting against lifting their immunity. The Romanian law requires a vote in one of the chambers of the Romanian Parliament if one of the MPs, deputy or senator, is to be detained, arrested or prosecuted.
Senator Varujan Vosganian is suspected of being part of an organized crime ring, abuse of office and accessory to embezzlement. More exactly, Vosganian is accused by prosecutors of using his former position of minister of Economy to force state owned Romgaz, the national gas provider, to sell under-evaluated gas to the chemical companies owned by Ioan Niculae, one of the richest businessmen in Romania.
The vote – 71 in favor and 56 against rejection of the DIICOT request – was preceded by a speech delivered but Vosganian who burst into tears at the end of it. After the fellow senators voted to protect him from criminal prosecution, Vosganian said "the vote today is a victory of democracy and dignity of the Romanian Parliament, as well as a chance to set the state powers on a balance we all wish for".
But his joy was not shared by his liberal party boss, President Klaus Iohannis, the one who won elections last fall on a wide ranging reform ticket. "I expected the Senate to approve the DIICOT request to prosecute the liberal senator Varujan Vosganian", Iohannis wrote on Facebook.
"The senators' vote shows they haven't yet fully understood the necessity of change I pleaded for both during consultations with the parliamentary political parties and the speech I recently held in the plenum of the Parliament. Before justice, here is only a single measure: respect for law, regardless of the person and position", Iohannis concluded.
The vote today embarrasses Iohannis in a moment when he is pulling strings to oust social-democrat PM Victor Ponta, his former rival in November's presidential elections, and install the liberals in power on a promise of change. At the same time, Iohannis is using the reform platform abroad as well, trying to finally push Romania into the Schengen area, after years of knocking on the doors of the borderless space. But since Romania's Schengen file is now a unanimously political affair, with Western countries conditioning the access of political and justice reforms, the vote today s unlikely to please the European countries which keep a close eye on Romania.